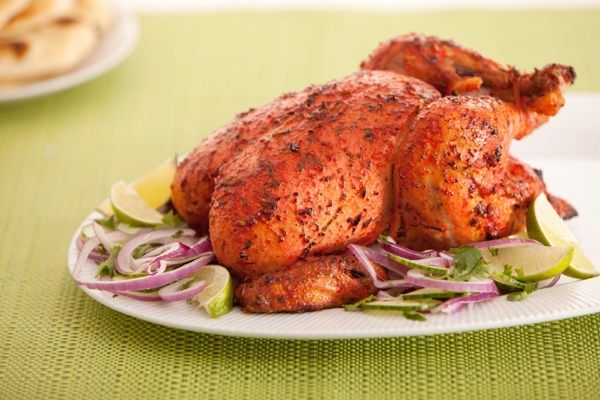 I love to have Tandoori Masala Roasted Chicken at the dinner table. Whole chicken, marinated and stuffed with masalas, and roasted to perfection is a perfect meals at the times of get together.   
Ingredients:
Chicken: 1 whole
Red Chilli powder: 2 tsp
Yogurt: 1 cup
Mustard oil: 1 tbsp
Lemons: 2
Ginger-garlic paste: 1 tbsp
Butter: 1 tsp
Garlic: 3-4
Kasuri methi powder: 1tsp
Onion: 1
Baby potatoes: 250 gms
Salt
Method:
- Take a bowl, add mustard oil, yogurt, red chilli powder, ginger-garlic paste and lemon juice.
- Add salt and butter, kasuri methi powder. Mix well. Stuff in chicken.
- Fill cavity with garlic cloves, lemon and onions.
- Hold legs together with skewer for roasting.
- Take a roasting tray, add baby potatoes (chopped), garlic, onions, salt and marination paste.
- For 45 minutes, put chicken in oven at 110 degrees. Later increase to 160 degrees for more 20 minutes.
- After cooking, brush the melted fat on chicken.
- Garnish with lemon and coriander.
- Sumana