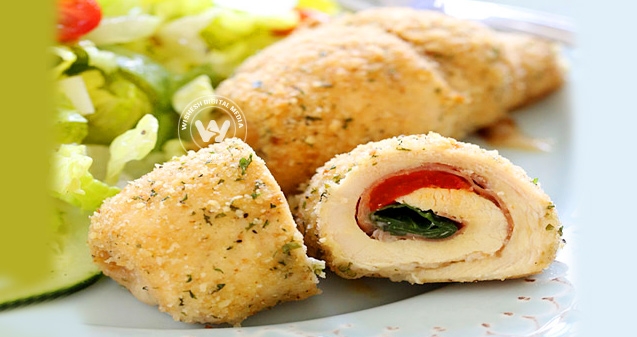 (Image source from: Baked Chicken Slices for Christmas)
Christmas is a time for celebration and feasting. Try this baked chicken dish that is lip smacking and loaded with nutrition. This yummy chicken recipe is sure to bring smiles in the face of all your family members.
Ingredients
6 boneless skinless chicken breasts
8 oz sliced crimini mushrooms
8 oil-packed sun-dried tomatoes
8 oz. chopped fresh baby spinach
8 oz. crumbled feta cheese
6 cloves chopped garlic
1 chopped purple onion,
1 red bell pepper, seeded and chopped
3 tbsp extra virgin olive oil
2 tbsp. fresh basil, sliced
Salt
Pepper
Instructions
Step 1: Preheat oven to 350 degrees F.
Step 2: Take the chicken breasts and slice each into half using a sharp knife. But do not cut all the way through. Slice them in a way that the open chicken breast look like a book. Use a mallet to slightly flatten them. Thickness of the chicken meat should be about 1/2 an inch.
Step 3: Now sprinkle both sides of the sliced chicken breasts with salt and pepper according to taste.
Step 4: Take a large frying pan and heat olive oil. Add the chopped pepper, onion and garlic into the oil. Saute for three to five minutes, then add the mushrooms. Continue to saute till the veggies are tender.
Step 5: Now add the chopped spinach and basil. Keep it coverered until spinach wilts.
Step 6: Remove from heat and add the crumbled feta cheese. Also add salt and pepper. Stir well.
Step 7: Divide the cheese mixture into six parts. Now place one part on each chicken breast and neatly roll them into a tube. Use toothpicks or string to secure the tube. Then place the chicken breast tubes in a greased casserole dish and bake for 20-25 minutes.
Step 8: Slice the baked chicken breast tubes before serving.
(AW: Pratima Tigga)