(Image source from: Special Indian Khara Chicken)
With just less than four more days to go for the New Year, it's time to get planning for the party menu ahead. Talking about party, for us Indians, it always translates into food, food and more food. And what better way to get all the festivities on than spread out a sumptuous meal. Today we bring you an out-of-the-box chicken recipe that your whole family and guests world relish. Read on to know the finger-licking good recipe of Khara Chicken.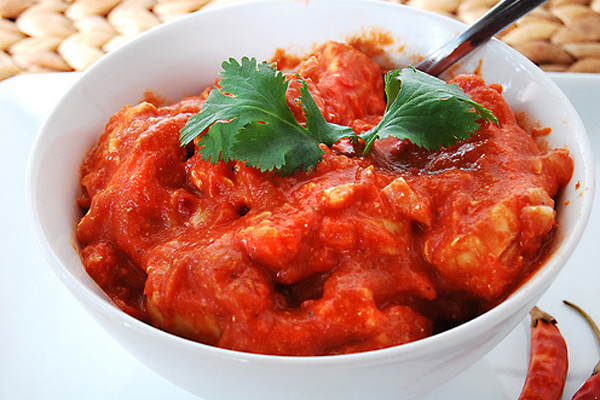 Ingredients
For the curry:
4 tsp refined oil
1 stick cinnamon
6-7 green cardamom
2 tsp black cumin seeds
4 cloves
1 tsp turmeric powder
2 onions, chopped
Salt, to taste
2 tbsp paste (ginger, garlic, green chilli and coriander leaves)
1 tsp red chilli powder
1 1/2 tsp coriander powder
7-8 chicken leg and thigh pieces
1 1/2 cup water
3 tsp onion-copra* paste (*copra means dried coconut)
Juice of 1/2 lemon
Coriander leaves, to garnish
For the paste:
1 cup grated copra
2 tsp oil
1 onion, charred (Cook the whole onion with the skin on an open flame till the outer cover starts to blacken)
Water
Instructions:
For the paste:
Lightly roast the grated copra and keep aside.
In a pan, drizzle oil and saute sliced onions. Add the dry roasted copra and whizz together in a grinder to make a fine paste. Add some water to adjust the consistency of your paste.
For the curry:
In a wok add oil, cinnamon, cardamom, cloves, black cumin and saute.
Add turmeric and let it cook for 30 seconds. Add onions and saute until pink. Sprinkle salt.
Add red chilli powder, ginger-garlic-chilli paste, coriander powder, 1/2 cup water and cook.
Now add the chicken and cook for 5 minutes so that all the masalas are well infused with the chicken.
Add 1 cup water, stir and cover and cook on low heat for 15 minutes.
Now add the onion-copra paste and lemon juice. Mix and cook till the chicken is well done.
Garnish with coriander leaves. Serve hot with steamed rice.
AW: Suchorita Dutta Choudhury