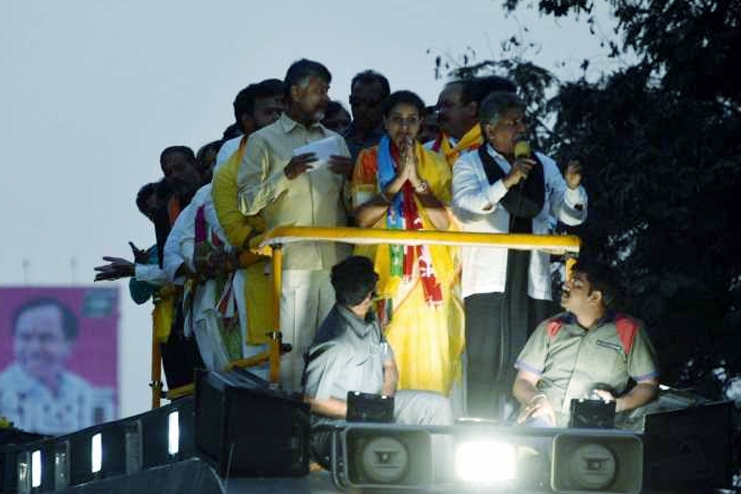 (Image source from: Newindianexpress.com)
The lively campaigning by political parties in Telangana is full on the swing as barely three days left for campaigning for assembly elections.
The state will go on polls on Friday.
The candidates in fray are exercising propaganda without squandering a split second and are to the hilt concentrated on road shows.
Bharatiya Janata Party has fielded Party national President Amit Shah and several senior leaders to hold election rallies, roadshows at different places. Addressing an election rally at Narayanpet, Shah said, BJP stands for development.
He alleged that Telangana Rashtra Samithi Government wasted crores of rupees of public money by dissolving the Telangana Assembly and opting for an early poll. Shah said the TRS Government has failed on all fronts during the last four and a half years.
He also alleged that the TRS government did not allow the fruits of the central government welfare programs reach people in the state. He alleged that the TRS and Congress are doing appeasement politics. He also addressed a rally in Amangal.
Related content: Telangana Polls: Reasons Why It Won't Be a Cakewalk Win for TRS
Union Minister Nitin Gadkari who held electioneering at Uppal, kollapur, Suryapet and Secunderabad, said, rural connectivity has vastly increased due to Centre's initiatives. Uttar Pradesh Chief Minister Yogi Adityanath held mass meetings in Sangareddy, Tandur, Goshamahal, and Medchal.
Senior Congress leaders including Jairam Ramesh and Gulam Nabi Azad held road shows at a number of places. Veerappa Moily attacked TRS government saying that poverty which came down in Telangana throughout Congress rule has gone up over again during the past few years.

Speaking in Hyderabad, Kapil Sibal alleged that more than 4000 schools were shut down during the TRS rule. He also alleged farmers' suicides have increased in the state.
TRS Chief Chandrasekhar Rao unveiled the party Manifesto at a Public meeting at the Secunderabad's Parade Grounds. Earlier addressing election rallies at Nagarkurnool and Patancheru, Rao asked people to compare the TRS governance with the rest of the state governments. 
Related content: PM Modi Pours Scorn on TRS Government at His First Rally in Telangana
The People's Alliance leaders also held joint roadshows in which Telugu Desam Party president Chandrababu Naidu and Gulam Nabi Azad and D K Shivakumar are taking part. 
MIM (All India Majlis-e-Ittehadul Muslimeen) President Asaduddin Owaisi has taken up campaigning in Charminar Constituency.
KCR Accuses Naidu
KCR on Sunday laid the blame on Andhra Pradesh Chief Minister N. Chandrababu Naidu of distorting facts about Hyderabad's development and said he needed a "mental check-up".
"Chandrababu Naidu says he built Hyderabad. Quli Qutub Shah who built the city would commit suicide (if he is alive and hears this). Was Charminar (monument) also built by Naidu? I don't understand," he told an election rally here.
Related content: This Town in Telangana Is Promising Lucky Draw Gifts to Promote Voting
"Would anybody talk like that? I think he should be examined to check to see whether he is mentally fit," Rao, the caretaker chief minister of Telangana, said attacking Naidu.
Turning up the intensity on Naidu, Rao claimed he did have actual concern for people.
Rao warned that if the Peoples Front triumphed in elections, the power centER would be moved from Hyderabad to New Delhi and Amaravati.
-Sowmaya Sangam