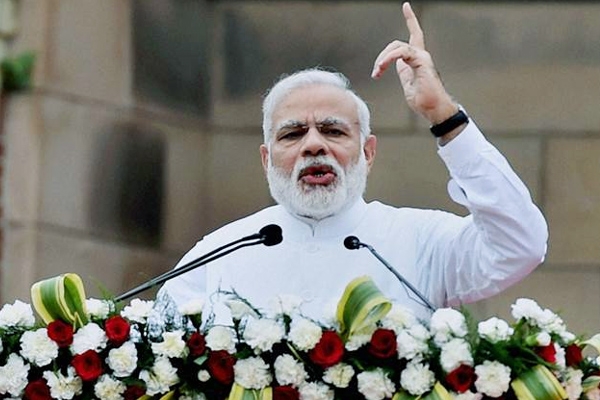 (Image source from: Indianexpress.com)
Prime Minister Narendra Modi on Tuesday ushered in a blistering attack on Telangana Caretaker Chief Minister K. Chandrasekhar Rao (KCR) accusing Telangana Rashtra Samithi (TRS) government of doing nothing throughout his term of office while only the KCR "dynasty" flourished.
While addressing his first rally in Telangana, PM Modi dedicated most of his time in rebuking KCR and his political party for neglecting the state for the sake of vote-bank politics and doing nil to figure out problems related to power, water, and roads. 
Telangana will be going to polls on December 7.
Related content: This Town in Telangana Is Promising Lucky Draw Gifts to Promote Voting
Modi's address in Telangana was much concentrated on the "failures" of the TRS government and attacking Rao, whereas his campaign in Chhattisgarh, Madhya Pradesh, Mizoram, and Rajasthan revolved around Congress bashing and targeting the Nehru-Gandhi family.
"The Chief Minister is following the Congress footsteps and believes that if the Congress can rule for 50-55 years doing nothing, then he too can do it," he said, calling the elections an to seek accountability from the TRS government and teach them a lesson. 
"People here have been longing for water. Despite his assurances, nothing has been done. People who cannot even ensure drinking water for the masses have no right to seek votes," the Prime Minister said. 
With the health infrastructure in the state in "shambles", Modi flayed the KCR government for opting out of the Ayushman Bharat scheme - the National Health Protection Scheme covering more than 10 crore families. 
"The CM suffers from insecurity and doesn't have an iota of trust on even himself. He depends a lot on astrologers, spends a lot of time on prayers and is superstitious. He feels so insecure that he did not join Ayushman Bharat, doing gross injustice to the people of the state." 
He also derided KCR for early dissolution of the Assembly, saying the early elections have given the people an opportunity to "get rid off" TRS a little sooner. 
"This government's hallmark is half-hearted promises, half-hearted schemes and they did not even complete their term," he said. 
Taking a shot at KCR for promising to turn Nizamabad into London, Modi said even smaller towns and cities in Bharatiya Janata Party-ruled states were better off and advised the Chief Minister to "stay in those towns" to learn about development. 
Claiming the BJP's only mantra was comprehensive growth and development, Modi said politics of vote bank had destroyed the country. 
"Wherever politics of vote bank, of caste and of dynasty flourished, there has been no development. 
"Telangana was formed after years of struggles and numerous sacrifices of youth. The state government doesn't have the right to destroy that sacrifice. Those who promised welfare of youth, farmers, tribals and the oppressed but did nothing should be taught a lesson by the people," said Modi. 
-Sowmya Sangam