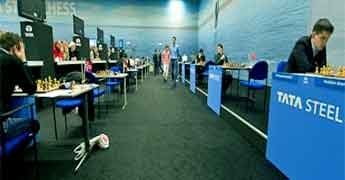 73rd Tata Steel Chess Tournament 2011 :  The Tata Steel Chess Tournament has three main tournaments. They are played according to the 'round robin' system, whereby each competitor plays in turn against every other during the tournament.
All three Grandmaster groups have 14 players. All rounds begun at 13.30 hours, except for the last round on January 30th, which begins at 12.00 hours. There are rest days: on January 19th, 24th, and 27th.
Time control : The time control is: 100 minutes for 40 moves, followed by 50 minutes for 20 moves, then 15 minutes for the remaining moves with 30 seconds cumulative increment for each move starting from the first move.
The 73rd Tata Steel Chess Tournament 2011 took place in the traditional "De Moriaan" venue in Wijk aan Zee.
The event which has taken place since 1938 will carry a new name, that of Tata Steel, they bought Corus a number of years ago.

Players include: World Number One Magnus Carlsen (last year's winner), reigning world champion Viswanathan Anand and his predecessor Vladimir Kramnik.
Levon Aronian and Alexander Grischuk also take places in the A-Group but Veselin Topalov does not.
In addition Anish Giri, Jan Smeets and a surprise choice in Erwin L'Ami have been chosen as the Dutch representatives.

This section contains games, results and reports in one place.

Ian Nepomniachtchi joined Viswanathan Anand, Hikaru Nakamura and Jan Smeets in the lead on 1.5/2 after beating Wang Hao in the only decisive game of Round 2 in the A-Group.
The game shouldn't have been decisive really, Wang wrongly avoided a repetition which only led him into trouble.
The most interesting game of the day was the hair-raising draw between Anish Giri against Jan Smeets in a Botvinnik Variation of the Slav.
Vladimir Kramnik produced a heavyweight novelty in the Nimzo-Indian against Viswanathan Anand, his exchange sacrifice more than equalised from the opening.
Levon Aronian made no headway against Hikaru Nakamura's Dutch.
Magnus Carlsen tried his best as black to keep things complicated against Alexei Shirov's Scotch but a draw by perpetual check was the correct result.
Grischuk and Ponomariov achieved nothing as white against Vachier and L'Ami and draws resulted.
Luke McShane is the only player on 2/2 in all three groups leading the B-Section.