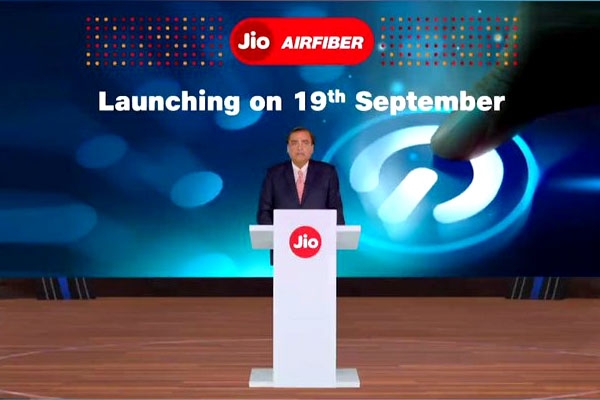 (Image source from: Twitter.com/reliancejio)
At the 46th Annual General Meeting (AGM), Mukesh Ambani skipped talking about power electronics, which was mentioned in last year's AGM meeting. He talked about the firm's vision of expansion into green energy. Mukesh Ambani said that by 2035, Reliance is going to be carbon zero and accelerating towards becoming net zero through renewables and bio-energy.
August 28, 2023
Mukesh Ambani while addressing at the AGM virtually talked about Rel Fiber. Jio AirFibre uses a pan India 5G network to bypass the use of last-mile fibre. The AirFiber can supercharge up to an internet expansion of 150,000 connections per day. Jio targets to get the customers of the Jio network to 200 million users in this fiscal year. AirFiber of Jio will work without any wires at a speed over the air. Now with this, we can have Wi-Fi hotspots in our homes. The Gigabit speed internet is very easy to connect with the Jio fiber.
The Jio AirFiber services will be available by just plugging in the device. Then immediately after leaving it on, your house will turn into a high-speed internet hub by using the True 5G network. At the AGM, Mukesh Ambani also said that on average over 450 million subscribers are using nearly 25 GB of data every month.