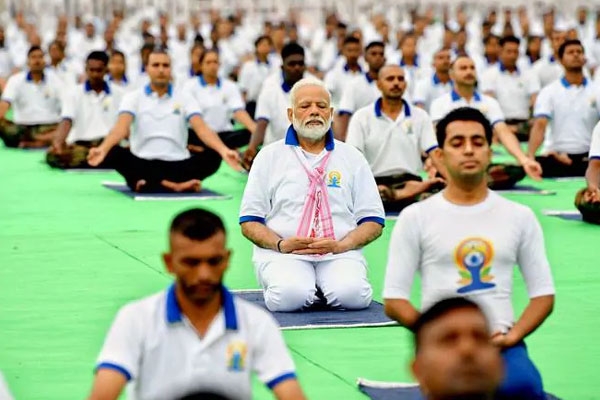 (Image source from: businesstoday.in)
The entire world is celebrating International Yoga Day today. Indian Prime Minister Narendra Modi addressed the nation this morning on the occasion and he said that yoga turned out to be the ray of hope in the battle against the deadly coronavirus. Here are ten important things about International Yoga Day:
The United Nations General Assembly declared June 21st as the International Yoga Day in 2014 after Indian Prime Minister Narendra Modi proposed the idea.
After the arrival of coronavirus, International Yoga Day is celebrated digitally and the theme for the year is 'Yoga for wellness'.
Yoga is quite important for the current situation and it can deal with depression, anxiety and it can turn as a boost for mental and physical health.
The live yoga demonstration was followed by messages from the top spiritual leaders like Sri Sri Ravishankar, Sadhguru Jaggi Vasudev, Dr HR Nagendra, Kamlesh Patel and others.
A special drive named 'Yoga An Indian Heritage' is organized by the Ministry of Culture today at 75 cultural heritage locations in India. All the bodies of the ministry will participate in the campaign.
25 Fit Yoga Centres are identified by the Ayush Ministry and Union minister Kiren Rijiju will present the Fit India certificates to them today.
The International Yoga Day is observed in 190 countries around the globe.
A special cancellation stamp will be issued by the India Post on June 21st to capture the essence of International Yoga Day. It will come with an ink marking or impression with a graphical design in English and Hindi.
A mega vaccination drive is organized by the states of Madhya Pradesh and Haryana on the occasion. The states are in plans to vaccinate 10 lakh and 2.5 lakh people respectively today.
The preparatory activities start 3 months prior to June 21st. Millions of people are introduced to yoga every year.
By Siva Kumar