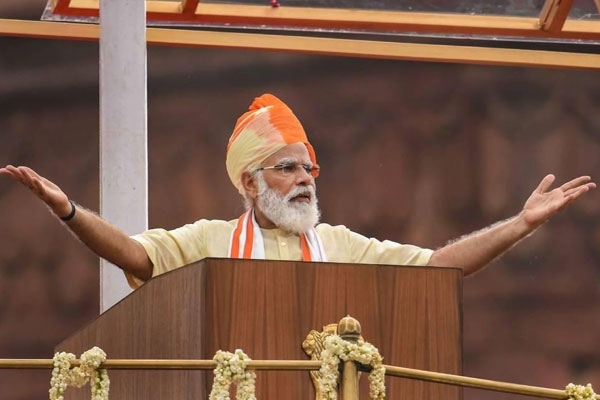 (Image source from: newindianexpress.com)
From the development of coronavirus to India's stand on China, take a look at the key points Prime Minister Narendra Modi has made at the Red Fort amid 74th Independence day celebrations.
In PM Modi's seventh consecutive Independence day speech from the Red Fort, the Prime Minister has announced major relevant and much needed changes the country deserves.
Continuing his turban tradition, PM Modi was spotted in an orange colour headgear with a dash of yellow shade along with a long tail extended till his ankle as he visited the historical Red Fort for Independence day celebrations.
Here are the highlights and major announcements made by PM Modi on the auspicious occasion:
From LOC to LAC India has given a befitting reply to the attackers along the borders. The world has seen what India can do to infiltrators at Ladakh this year. PM Modi lauded Indian army personnel for the way they handled Chinese troops at the Galwan valley.
Just as Sikkim was made an organic state, efforts are being made to make Ladakh carbon free. Ladakh contributes 0.1% of the total emissions in the country.
India is committed to hold assembly elections in Jammu and Kashmir once the delimitation exercise is completed.
A new revolution is introduced in the country on the occasion of Independence day called the National Digital Health Mission where every Indian will get a health ID card. This ID will ease the access to medical services to every India.
The health ID will contain information about medical data, previous prescriptions, diagnostic reports and previous discharge summaries. The health mission is expected to bring transparency in the health care services across the country.
The central government will soon unveil a new cyber security policy to counter cyber threats by constantly developing new systems. The National Cyber Security Strategy 2020 will be finalized this year to take all the necessary actions to create a secure cyberspace in India.
A new government scheme will be introduced this year where sanitary napkins will be provided to women in India at Rs. 1. The government is mulling on deciding a new legal age for marriage of women. A special committee has been set up to look into the matter.
The National Cadet Corps (NCC) will be extended to deploy more youth in the coastal and the border areas. Around 1 lakh new cadets will be trained and one fourth of them would be women. In border areas, the army will train the cadets whereas in the coastal areas, the navy will train them.
A plan is being developed to connect India with Multi Model Connectivity Infrastructure for which Rs. 100 lakh crores is being spent.
India will focus on strengthening and expanding neighbourhood relations to develop security and trust.
By Gayatri Yellayi