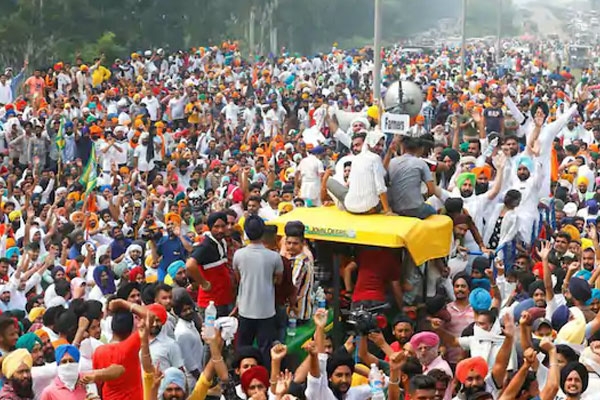 (Image source from: news18.com)
Hundreds of farmers are protesting against the introduced farm laws by the Centre. It has been more than four months but the Centre is yet to find the best resolution. To intensify the protests against the Centre, the farmer unions called for a Bharat Bandh tomorrow across the country. Samyukta Kisan Morcha (SKM) called for the Bharat Bandh after the farmers completed four months of protest. Several protests are planned and they are in plans to burn the anti-farm laws during the Holika Dehan. Samyukta Kisan Morcha (SKM) appealed to the people of the country to participate in the Bharath Bandh and make it a huge success.
Samyukta Kisan Morcha (SKM) said that the government is discrediting the protests of the farmers and is diverting the country. The farmers are protesting for four months and a series of talks are held between the Union Agriculture Minister Narendra Singh Tomar and the farmer unions. The Bharat Bandh will take place from 6 AM to 6 PM tomorrow. All the road, rail and public transports along with the shops, markets and public places will remain closed all over the country. Special programs are planned by the farmers as a part of the protest. A blood donation camp was organized in Madhya Pradesh' Ashok Nagar. Thousands of farmers from Haryana, Punjab and Uttar Pradesh are camped at the borders of Delhi from four months against the farm laws. The Supreme Court asked the Centre to put the farm laws on hold for now.
By Siva Kumar