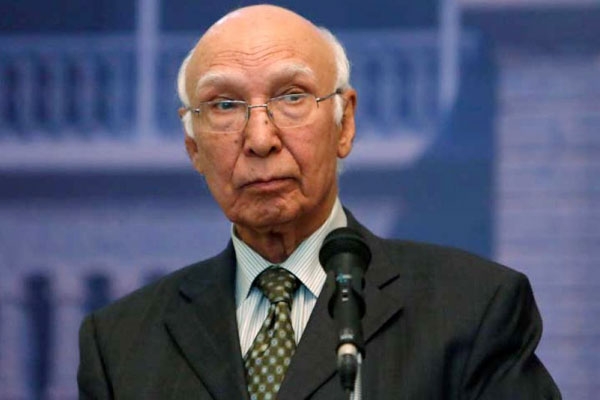 (Image source from: })
Pakistan Prime Minister's Advisor on National Security and Foreign Affairs Sartaj Aziz expressed his country's concern over the India and US' Nuclear Deal as an arms race in South Asia.
"Pakistan is examining the imbalance (likely to be caused by these agreements) and the possible ways and means for redressing it," Sartaj Aziz said Thursday.
Sartaj Aziz spoke at a seminar organized by Islamabad-based think tank 'Strategic Vision Institute' on 'the implications of US President Barack Obama's second visit to India Jan 25'. In his speech he came across the US' ignorance to their requests conveyed before President Obama's visit to India.
"Pakistan's key concern is the paramount importance of strategic stability in South Asia," Aziz said. He also mentioned, US was asked to "take a comprehensive view of strategic imbalance in South Asia and avoid any steps that may jeopardize the region's strategic stability".
The US' support for India's permanent membership in UN Security Council and reduced export control regimes should not be implied as India's automatic entry into these privileged forums, according to Aziz's version.
Pakistan has been requesting the UN and the US to take initiative in Kashmir issue, which is long pending with India. While, US is planning root out the terrorist safety havens in Pakistan mainland.

-Kannamsai