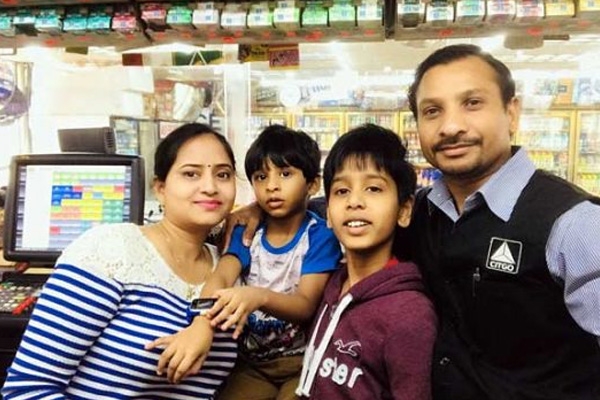 (Image source from: telanganatoday.com)
The United States-based Non-Resident Indian (NRI) couple showed their humane nature by building a four-room house with cement sheets roof for a poverty-stricken family behind the market area in Jagtial town in Telangana.
Jagtial based couple, Papatti Aadi alias Harish and his wife Sri Laxmi migrated to the United States in hunt of employment and settled there.
Recently, Aadi decided to construct a house for a homeless family in the remembrance of his mother Ramalaxmi and contacted local social worker Renikunta Ramesh, who identified Badri Sujatha's family to construct a house.
A beedi roller, a thin cigarette or mini-cigar filled with tobacco flake, Sujatha is striving hard to stay in a dilapidated hut along with her three daughters and in-laws. Besides providing education to her three daughters, Sujatha is taking care of her in-laws after the death of her husband Venkatesh three years ago.
With an intent to provide permanent shelter to family, Ramesh had decided to construct a house with the amount donated by NRI couple. Besides the NRI couple, local philanthropists came forward to donate cement bags and doors.
Aadi's mother-in-law Damarapati Bharathi along with local corporator Pippari Anitha inaugurated the house on Monday.
The construction of the house was completed by spending Rs 1.80 lakh. While NRI couple provided Rs 1.30 lakh, remaining amount was pooled locally, social worker Ramesh told Telangana Today.
When Aadi explained regarding his idea to construct a house to hapless family, he began searching for an impoverished family and found Sujatha, who was going through terrible hardships to staying in a dilapidated hut along with her daughters and in-laws.
Earlier, he managed to construct houses to 17 poor families besides providing Rs 62.50 lakh financial assistance to 43 needy families during the last three years.
-Sowmya