Rhea Chakraborty Requests Amit Shah for CBI Probe into Sushant Singh Rajput's Death
July 16, 2020 18:13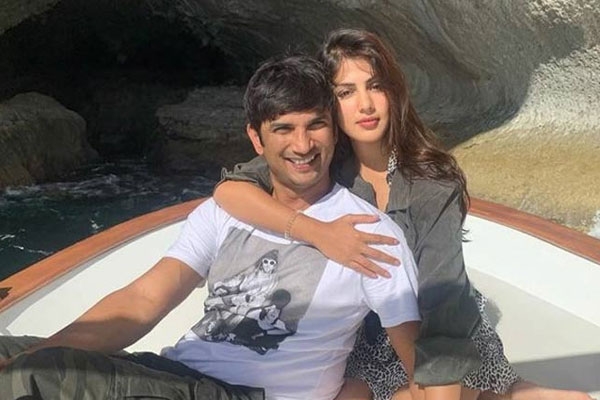 (Image source from: odishatv.in)
Rhea Chakraborty in a tweet to Amit Shah said, "I'm Sushant Singh Rajput's girlfriend and I request to initiate CBI inquiry into the matter".

Rhea Chakraborty opened up on Sushant Singh Rajput's death for the first time on July 14, one month after the actor's suspicious suicide.

She had first changed her display picture on whatsapp with Sushant Singh Rajput and then took to Instagram to write a post on Sushant.
                      (Image source from: news18.com)

In her instagram post she said that Sushant is the one who made her believe in love. She also said, "30 days of losing you but a lifetime of loving you".

Since the day the news of Sushant Singh Rajput's death has reached the world, Rhea has been receiving rape and death threats alleging her connection with Sushant's suicide.

Though she remained silent for a month after the death of her beloved Sushant, she started speaking up. A day after she wrote an endearing post on Sushant, today she requested Amit Shah for a CBI probe into the death of Sushant Singh Rajput.

She expressed complete faith in the government and also said that she only wanted to know what prompted Sushant to take this tragic step.

Sushant Singh Rajput, a famous Bollywood star was found dead in his Bandra apartment on June 14. Reportedly, the actor died by hanging himself in his flat.

Rhea Chakraborty has been receiving hate messages since then and in her earlier post she had shared a screenshot of death threats she has been receiving.

"I was called a gold-digger, I kept quiet. I was slut shamed, I kept quiet. But, how does my silence give you the right to tell me that you will get me raped and murdered if I don't commit suicide", she posted on her Instagram replying to the hater.

She had tagged the cyber cell and requested them to take necessary action. She had recorded her statement with the Mumbai Police on June 18.

After Sushant's death, Maharashtra Home Minister Ali Deshmukh said that Mumbai Police would probe into the death of late Sushant Singh Rajput in the angle of professional rivalry.

Rhea Chakraborty was only known to be a close friend of Sushant Singh Rajput and there are several photos of the couple together. She however, confirms that she was his girlfriend on her post on Instagram today.

By Gayatri Yellayi