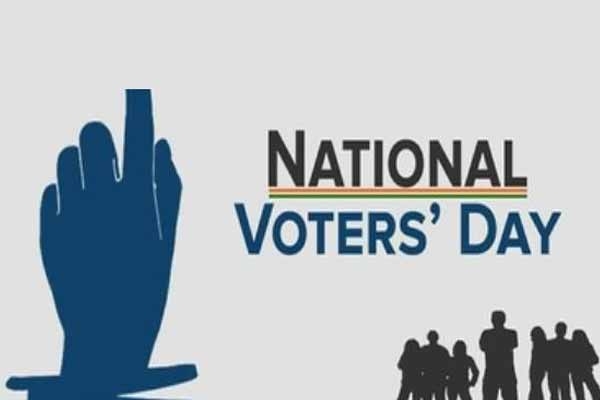 (Image source from: bansalnews.com)
The National Voters Day will be celebrated across our nation for more participation of citizens in the electoral process of our great democratic Country.
President Ram Nath Kovind will be the Chief Guest at the main function being organized by Election Commission in New Delhi. 
According to reports that Chief Election Commissioners and senior officials from Bangladesh, Bhutan, Kazakhstan, Maldives, Russia and Sri Lanka will also grace the occasion.
The main purpose of the celebration is to encourage, facilitate and maximize the enrollment, especially for the new voters, and also the create awareness among voters to use their right.
Theme: National voters Day 2019
In view of the upcoming Lok Sabha Elections, "No Voter to be Left Behind" has been selected as the theme for the National Voters Day.
History:
25th January is the foundation day of the Election Commission of India (ECI) which came into existence on 1950.
This day was first celebrated in 2011 to encourage as much as young voters to take part in the electoral process.
So, This is the 9th year of National Voters Day celebrations and it is observed every year on 25 January to increase the number of voters all around the country, especially young voters.
It is also celebrated to spread awareness regarding effective participation in the electoral process among voters.
India termed as the Largest Democratic Country in the world. So, it is the day to celebrate the right to vote and also the democracy of India.
Election Commission main objective is to increase the enrollment of voters, especially the eligible ones.
We all know that earlier the eligibility age of the voter was 21 years but in 1988 it was lowered to 18 years.
Sixty-First Amendment Bill of 1998 lowered the voter's eligibility age in India.
-Saikumar