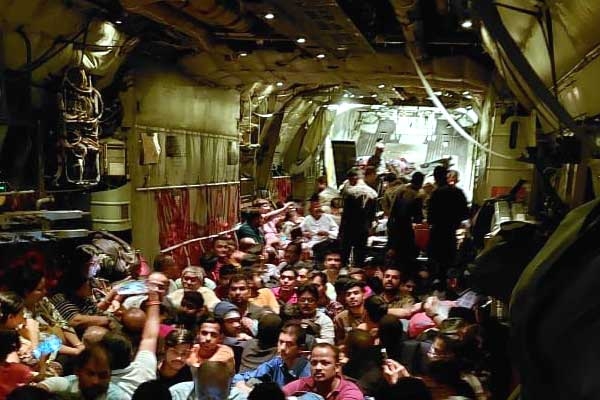 (Image source from: Twitter.com/MEAIndia)
The IAF went on a daring rescue operation in Sudan to rescue 121 Indians, where there is are no landing lights, no navigation and with no fuel on a very thin airstrip. By C-130J aircraft of the Indian Air Force IAF went on the operation at Wadi Sayyidna, 40km North of Khartoum, Sudan.
Sudan is facing clashes between the army and paramilitary forces as a result there is bloodshed. There has been a strong shed of violence in the country. Fighting is happening between soldiers loyal to Sudanese army leader Abdel Fattah al-Burhan and his deputy, parliamentary Rapid Support Soldiers (RSF)commander Mohamed Hamdan Daglo.
Respect and regard to our senior citizens being evacuated from Sudan. #OperationKaveri pic.twitter.com/fopeIC3GoH

— Arindam Bagchi (@MEAIndia) April 30, 2023
India launched 'Operation Kaveri' to rescue stranded Indians from Sudan, which includes pregnant women and some emergency medical cases. The operation is to rescue Indian citizens from the troubled areas of Port Sudan and from the conflict zone Khartoum. As per IAF officials, the aircrew carried Night Vision Goggles in the dark light. The operation went on for around 2:30 hours and a similar type of operation was held in Afghanistan to evacuate Indians from Kabul after the Taliban seized the country in August 2021.
Another IAF C-130J flight between Port Sudan and Jeddah.

135 passengers onboard.

15th batch of Indians evacuated. #OperationKaveri progresses ahead. pic.twitter.com/HBSynYIjym

— Arindam Bagchi (@MEAIndia) April 30, 2023