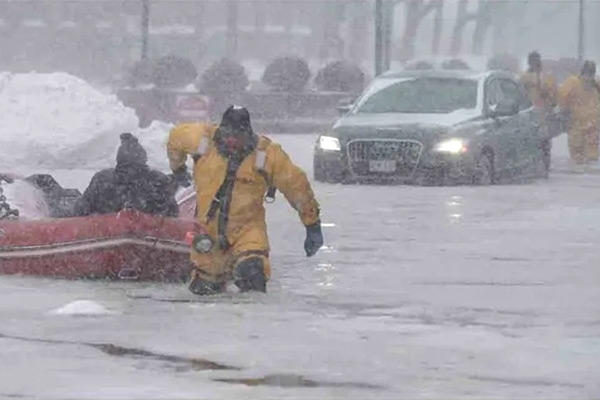 (Image source from: Telanganatoday.com)
The snow storm in USA has taken a massive toll on the country and the Bomb Cyclone has claimed 34 lives till date because of various incidents that took place because of the harsh weather over the Christmas weekend in the United States of America. The harsh conditions continued to batter USA and the temperatures dropped further in most of the states and cities of USA and Canada. The snow storm is called as Bomb cyclone and the death toll is expected to increase further. The officials suspect that some of the residents are trapped in their houses with the heaping snow drifts. Lakhs of houses are left with no power and other facilities. The Christmas weekend was never like this for the Americans and those who are residing in the USA.
Millions of Americans who had travel plans over the Christmas and New Year weekends had to stay calm in their houses as most of the flights got cancelled. The officials advised not travel in this snow storm. More than 6000 flights are canceled over the Christmas weekend and this never happened in the past. There is no clarity on when the situation will return back to the normal. The temperatures reached below -45 degrees in some of the parts of the USA. All the citizens are restricted to their homes. A Bomb cyclone is created when the pressure in the atmosphere reaches all time low. The officials asked the citizens to be extra cautious and the electricity works are reinstated.