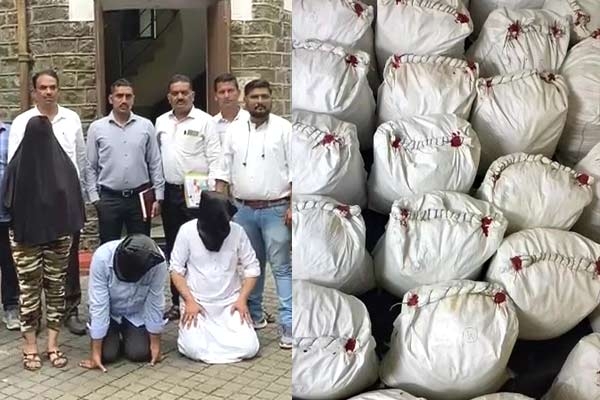 (Image source from: Twitter.com/ANI)
In a shocking incident, the cops in Mumbai seized more than 700 kgs of mephedrone that is valued at Rs 1400 crores in the market. The raid was conducted at a drug manufacturing unit in the Nalasopara region of the Palghar district. Five people are arrested including a post-graduate in organic chemistry as per the cops. Mumbai's Anti-Narcotics Cell Crime Branch conducted the raids after they received a critical information. Mephedrone is a banned drug and it is manufactured in the unit as per the officials. Four of them are arrested in Mumbai and the fifth one was taken into custody from Nalasopara. The fifth one was a post-graduate in organic chemistry and he has a skill of making drugs as per the cops.
Anti Narcotics Cell of Mumbai Police seized 703 kg of MD drug from Nalasopara area. The seized drug consignment is worth around Rs 1400 crores. Five drug peddlers arrested: Datta Nalawade, DCP Anti-Narcotics Cell pic.twitter.com/gX4h6hYwbH

— ANI (@ANI) August 4, 2022
The Anti-Narcotics Cell revealed that this is the biggest ever raid and drug hauls in and around Mumbai in the recent years. Mephedrone is commonly known as meow meow or MD. It is a synthetic stimulant a psychotropic substance that is banned by the government of India under the Narcotic Drugs and Psychotropic Substances (NDPS) Act. Mephedrone speeds up the travelling of messages between the body and the brain. The post-graduate is a professional in making the formula to produce Mephedrone through experiments. Several drug peddlers are arrested with Mephedrone after which the cops investigated the matter and traced the major gang who is behind the production of Mephedrone.