(Image source from: wikimedia.org)
The only state in India where the number of COVID-19 cases are tremendously rising is Kerala. This issue has become a large matter of concern for the public of the respective state. The state government might issue stricter COVID protocols to decrease the number.
Considering that the state is on the coast, the high number of cases may not be a big of a shock. However, the state has stabilized the cases during the middle of the year. Unfortunately, the positivty rate has touched 10% during December 13-26. This is a 9.4% increase in the positivty rates from the month of November.
If any of the states have a positivity rate above 5%, this state is considered a red zone. Other than Kerala, Goa is the other state which has has an above 5% positivity rate with 6%. However, the state (Goa) has improve its conditions bringing it down to a 5% rate. It is still considered a red zone however.
The positivity rate in Kerala is highly alarming considering that the entire India's positivity rate has come down to 3% in November, and now 2.2% in December.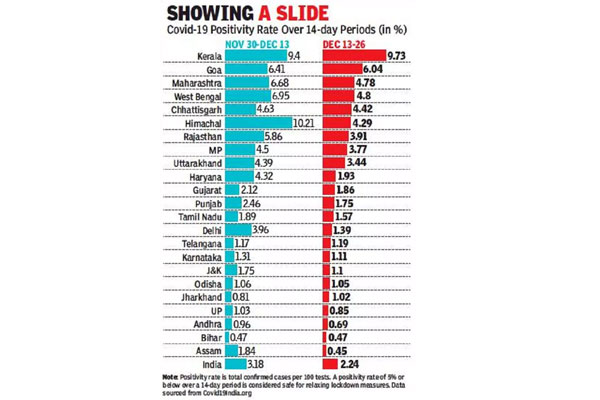 (Image source from: timesofindia.indiatimes.com)
Major states in India have brought down their positivity rate drastically with social distancing, lockdown protocols and COVID preventives. Assam is the country with the least positivity rate at 0.45%. Other states with low positivty rate are Uttar Pradesh, Andhra Pradesh and Bihar- all states with rates below 1%.
India has been following strict protocols and tracking down cases to reduce the COVID positive cases in the country. The vaccine in India is expected to come during the first quarter of 2021.
By Meena Atmakuri