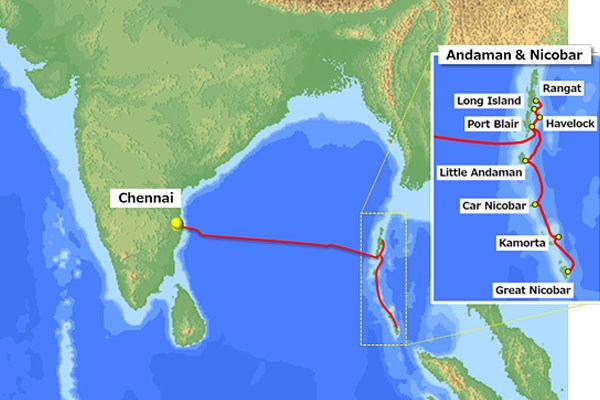 (Image source from: nec.com)
To enable faster delivery of reliable communication services and to improve telecommunication in Andaman and Nicobar Islands, a submarine fibre cable connectivity to be launched by the PM.
Prime Minister Narendra Modi will launch the Submarine optical fibre cable connection between Chennai and Andaman and Nicobar Islands capital Port Blair which will make telecommunication services in the island at par with the other parts of the country.
PM will inaugurate the fibre cable connection through video conferencing on August 10, 2020. The foundation stone for this project has been laid in 2018 by the Prime Minister at Port Blair.
This submarine fibre connectivity will enable the delivery of faster and more reliable mobile and landline telecom services to the Andaman and Nicobar Islands on par with other parts of India.
This will in turn boost tourism in the islands and would also provide employment to the dwellers in Port Blair. This move by the Indian government is taken to enhance the economy of the islands and also to raise the standards of living of the people residing.
PMO while tweeting on social media about the launch event said that better connectivity to these islands would boost the delivery of e-governance services like tele medicine and tele education.
Small enterprises would also benefit from this fibre cable connectivity by establishing e-commerce services and educational institutions would utilize this for knowledge sharing and learning.
The Submarine cable will connect Port Blair to Swaraj Dweep, little Andaman, Car Nicobar, kamorta, Long Island and Rangat.
The Prime Minister had interacted with BJP workers of Andaman and Nicobar in the presence of BJP President J P Nadda.
Prime Minister Modi had asserted that the fibre optic connectivity between Port Blair and Chennai would boost the virtual connection of Andaman and Nicobar Islands with other parts of the country.
Every citizen residing in the Islands would be able to get all kinds of online services amid the pandemic.
He also said that with the help of internet connectivity in the Islands, education, tourism and business sectors would see great improvement in the future.
In Andaman and Nicobar Islands, the government is planning to lay emphasis on businesses related to sea foods, organic products and coconut based products.
Twelve islands have been chosen by the Prime Minister to expand the high impact projects.
PM said that for the development of New India, the entire nation needs to progress and all the initiatives planned by the government should reach the people at the end of the queue.
He said that be it a pandemic or any other problem, the nation has to work together and help other people by staying connected.
By Gayatri Yellayi