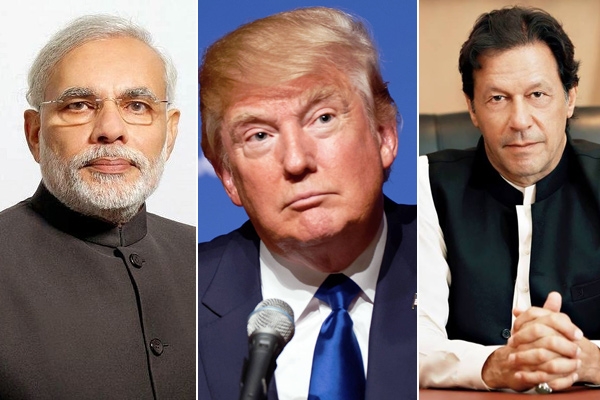 President Donald Trump on Monday spoke to India's Prime Minister Narendra Modi over the phone, urging to work towards reducing tension between India and Pakistan over the disputed Kashmir region.

"The president conveyed the importance of reducing tensions between India and Pakistan and maintaining peace in the region," White House spokesman Hogan Gidley said in a statement.

Modi told Trump that he is hopeful that representatives from the two countries will meet again soon to talk about trade issues, the government said in a statement on Monday.

Modi expressed hope that United States trade representative and India's commerce minister would meet soon to discuss bilateral trade prospects, the government said.

The White House in a statement said: "The two leaders further discussed how they will continue to strengthen United States-India economic ties through increased trade, and they look forward to meeting again soon."  

Trump Dials Imran Khan

Soon after Trump's 30-minute conversation with Modi, the U.S. President phoned Pakistani Prime Minister Imran Khan to discuss the "the need to reduce tensions and moderate rhetoric with India over the situation in Jammu and Kashmir," the White House said in a readout of the call.

During the conversation, Trump "reaffirmed the need to avoid escalation of the situation, and urged restraint" on both sides, the White House said.

The two leaders also agreed to work towards strengthening U.S.-Pakistan economic and trade cooperation, it added.
Spoke to my two good friends, Prime Minister Modi of India, and Prime Minister Khan of Pakistan, regarding Trade, Strategic Partnerships and, most importantly, for India and Pakistan to work towards reducing tensions in Kashmir. A tough situation, but good conversations!

— Donald J. Trump (@realDonaldTrump) August 19, 2019

Last month, India revoked Article 370, which granted special status to Jammu and Kashmir and divided the state into Union Territories, evoking strong reactions from Pakistan.  

'America Had Love Affair with India and Pak'
                        (Image source from: Twitter/RaviBatra)

Welcoming Trump's call to Modi and Khan, New York-based Indian American attorney Ravi Batra said the U.S. President, speaking for all Americans, essentially told "our dear friends" in the subcontinent to live terror-free, be good neighbors and give their citizens a better tomorrow with law and order.

"While speech is free and protected, hate-speech weaponizes the citizenry and leads to insurrection and civil unrest. America has had a love affair with India and Pakistan. It's time for a belated honeymoon on the subcontinent, even 73 years late," Batra said.

In a tweet, Batra urged Modi to invite Imran Khan for "bilateral tea" in Kashmir. "Like Abraham Lincoln, India has clamped down to prevent terror and establish law and order. Time to invite," he said.

By Sowmya Sangam