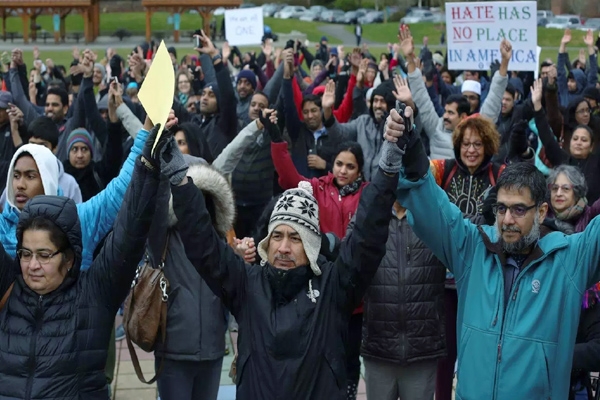 (Image source from: Quartz)
The Southern Indian state Telangana has turned out to be the top city across the world that sends aspiring engineers to the United States, but then, it has been both boon and bane for scores of families.
On January 3, the 26-year-old Indian origin engineer Sai krishna Poosa was shot by robbers in Detroit while coming back home from work. According to report, the gunmen fired three rounds at Poosa and the fled with his wallet, car, and other belongings leaving him abandoned in freezing temperature. Passersby found him lying on the road and notified the authorities.
Poosa, an electrical engineering graduate from Lawrence Tech University, Southfield Michigan, is set to undergo multiple surgeries and in order to help pay his hefty hospital bills, Poosa's friends set up a crowdfunding page. Subsequently, they surpassed the $250,000 target within two days and the donations are still pouring in as he battles for his life.
ImageSource: Telangana Today
The attack on Poosa took place just two months after Sunil Edla, 65, was shot dead in New Jersey by a 16-year-old in a carjacking incident.
To a source of distress, both the victims are from the same place of origin - Telangana.
Hailing from Warangal in Telangana, Poosa graduated with B.Tech degree from Hyderabad in 2014 and move to the United States for his master's in 2015, whereas, Edla migrated to the U.S. back in 1987 from Telangana's Medak district.
The similarity is not occurring by chance, because the state exports a huge number of information technology professionals to America. Actually, notable technology leaders like Microsoft's Satya Nadella and Adobe Systems Chief Executive Officer Shantanu Narayen are both from Hyderabad, Telangana's capital.
The state is as well home to a "visa" temple, Chilkoor Balaji, known to attract devotees hoping to secure work in the West.
Between 2008 and 2012, more than 26,000 students from the city went to the United States, and more than 20,000 of them were pursuing degrees in science, technology, engineering, or mathematics (STEM) fields, according to a report by Brookings Institution.

The U.S. consulate in Hyderabad handed 173,000 non-immigrant visas in 2017 and ranks among the top 10 globally for both student and business visas.
In the recent past, Telugu, the local language of Telangana, has been the fastest-growing language in the U.S., posting a 86 percent uptick between 2010 and 2017 to reach 415,000-plus native Telugu speakers by now.
Growing Crimes
Though scores of techies from Telangana build uplifting lives for themselves in the U.S., a number of them had been the target of hate crimes and other violence.
In February 2017, the 27-year-old Vamshi Reddy Mamidala, a software engineer from Vangapahad village in Telangana's Warangal district, was gunned down by a drug addict outside his apartment's garage in Milpitas, California.
The same month, an Indian origin Srinivas Kuchibhotla, along with his friend Alok Madasani, both 33-year-old techies from Hyderabad, were shot by a U.S. Navy Veteran Adam Purinton, in a hate crime at a bar in Olathe, Kansas. Madasani survived but Kuchibhotla did not.
ImageSource: Time Magazine
In July 2018, a 26-year-old Sharath Koppu, a student at the University of Missouri, Kansas City, who hailed from Warangal, was shot dead in an armed robbery at a restaurant.
However, some claim that many of these crimes are not racially motivated but the consequence of being at the wrong place at the wrong time.
"This was an unfortunate incident where Sharath happened to be at the store when the assailant made a failed robbery attempt," said Jagdeesh Subramanian, president of the India Association of Kansas City, as quoted by Quartz in the wake of Koppu's shooting. "This could have been anyone honestly since the motive was money…I don't think anyone yet would take the current situation and make the conclusion of the U.S. being an unsafe place for immigrants, especially of Asian descent."
The intensified anti-immigrant rhetoric has come to the fore since president Donald Trump took office in January 2017, and hate crimes in the U.S. are on the rise.
Social-justice advocacy group South Asian Americans Leading Together (SAALT) documented 302 incidents of hate violence and xenophobic political rhetoric aimed at South Asian, Muslim, Sikh, Hindu, Middle Eastern, and Arab communities in the U.S. - a more than 45 percent increase from the year leading up to the 2016 election cycle.
Families of immigrants back home in India are for sure worried. "The situation seems to be pretty bad after Trump took over," said Madasani Jaganmohan Reddy, father of Kansas shooting survivor Alok. "I appeal to all the parents in India not to send their children to the U.S. in the present circumstances."
-Sowmya Sangam