Lakshya Movie Review, Rating, Story, Cast and Crew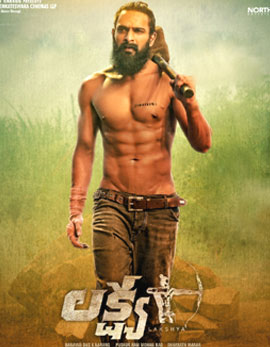 Rating:

Director:

Dheerendra Santhossh Jagarlapudi

Cast:

Naga Shaurya, Jagapathi Babu, Ketika Sharma, Sachin Khedekar

Banner:

Sri Venkateswara Cinemas, Northstar Entertainment

Producer:

Narayan Das Narang, Puskur Ram Mohan Rao, Sharrath Marar

Music:

Kaala Bhairava

Release Dt :

Dec, 10 2021
Story
Lakshya is the story of a talented youngster Pardhu (Naga Shaurya) who is specially trained in archery from his childhood days. His grandfather is his first Guru and Pardhu gets perfect in the sport as time progresses. He falls in love with Rithika (Ketika Sharma) and Pardhu wins the state-level championship in Archery. Right at this time, an unexpected incident closes doors for his future. The rest of Lakshya is all about how Pardhu hits back with a bang and makes it to the world championship. Watch Lakshya to know about the entire story.
Analysis
Lakshya is based on archery and the audience will have a chance to know about the sport which is unknown to the Tollywood audience. The film offers nothing except the interesting backdrop. The narration makes no impact as the entire film is predictable. The songs are not placed well and the interval episode is decent. The first half is passable but the audience will wait for the second half as the core plot and the sports episodes along with the comeback of Pardhu is quite important.
The second half of Lakshya is bland, boring to the core and is shockingly predictable. The episodes of Pardhu making his comeback will not have any impact. The songs are outdated and the film happens on a serious note. There is no need for Naga Shaurya to build a six-pack look and go shirtless for Lakshya. The climax is predictable and it happens on a happy note. On the whole, the second half of Lakshya is predictable and boring. The film cannot be called a perfect sports drama.
Performance
Lakshya has a packed performance from Naga Shaurya and the actor tops the show. His efforts are clearly seen on screen and Shaurya gained a ripped look for the movie. The actor stuns in dual shades and did his best for the movie. Ketika Sharma has been good in the role of Ritika and she delivered her best in the emotional episodes. Jagapathi Babu's performance is a relief for the second half of the film. Sachin Khedekar gets an important role and delivered his part well. All the other actors did their part well in Lakshya.
Lakshya is a different attempt as it is a sports drama that has the backdrop of archery. The screenplay is good but it is the narration that plays the spoilsport. The dialogues are ok and the cinematography work is excellent. Some of the episodes of archery are beautifully presented on screen. The director has done enough homework on the sport. The music is just ok and the background score sounds good. Debutant Santossh fails to execute Lakshya well despite getting some top and prominent actors on the board. Lakshya is a misfire because of the poor narration.
Final Word
Lakshya sets new premises for the Tollywood audience but is completely wasted because of the poor and bland narration.
Stills from this movie
Videos & Trailers