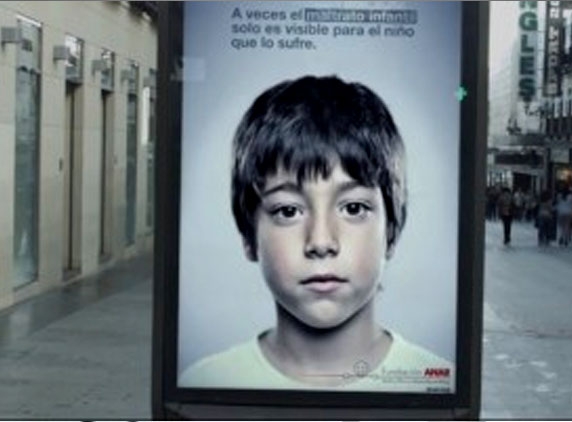 Child abuse has been a major problem since several decades and addressing the issue is the hardest task since they children cannot often communicate the problem to their parents or guardians. The unsuspecting parents who never know that their child could be a victim will rarely notice the problem before it is too severe. Sometimes, unfortunately, the parents are the abusers and the child has no where to go.
However, a Spanish organization has come up with a brilliant idea of advertising and addressing this problem. Differential advertisement using a single ad that will be visible to adults in a way and a kids in another way has been their mode of approach.Advertising has reached new zeniths with newer technologies foraying into the markets everyday. This one employs a lenticular board that allows viewers to see differently depending on their height.

Aid to Children and Adolescents at Risk is a Spanish foundation that cares for the kids who are abused while providing them a solution and reaching out to them to help them. In their recent ad, they utilized a technology that will allow kids to see the hidden message with the phone number and a special message that they will be helped. Adults however being taller cannot see this hidden message that can be viewed only in one angle. All they can see from their point of view is a boy and the caption "sometimes, child abuse is only visible to the child suffering it." But when a child looks at the ad, they see bruises on the boy's face and a different message: "if somebody hurts you, phone us and we'll help you" alongside the foundation's phone number.

Similar techniques can be used for several much more noble purposes in troubled places like India where women safety is a huge problem today. However, the problem of misusing this technique could be just as high just as you can cut your apple with a knife or use it to kill someone!

(AW- Anil)