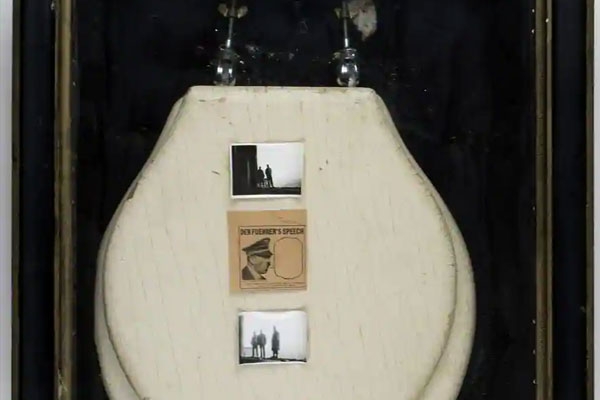 (Image source from: hindustantimes.com)
According to a source from an auction company, Hitler's toilet seat will be up for auction. During the World War 11, his toilet seat was looted by a US army soldier.
According to the auction company, the family of the soldier has now decided to cash in the two piece wooden toilet sat with its lid removed.
The toilet seat's starting price is expected to fetch around 15,000 dollars USD. The starting bidding price for this item is 5000 USD. During World War II, A US solider looted the toilet seat from Hitler's private bathroom in his holiday home in the Bavarian Alps near Berchtergaden.
The unusual historical item will be auctioned at the Alexander Historical Auctions LLC in Chesapeake City, Maryland on February 8th.
The toilet seat measures 19 inches from back to front and is 16 inches wide. It also has two photographs of the soldier Ragnvald Borch and his immediate superior officer at the Eagles Nest at Berchtesgaden. The toilet seat also has a satirical anti Hitler newspaper clipping. The soldier's family who has the seat said the item remained untouched in the basement of the family's home.
The item is ready to be auctioned off to a lucky yet unusual buyer. This is the closest we can get to any of Hitler's properties. When Hitler reportedly committed suicide with his girlfriend at the time, there bodies were never found and when they dug his grave out, after a DNA test it was determined that that was not Hitler. Till today, no body knows where Hitler's body is.
By Meena Atmakuri