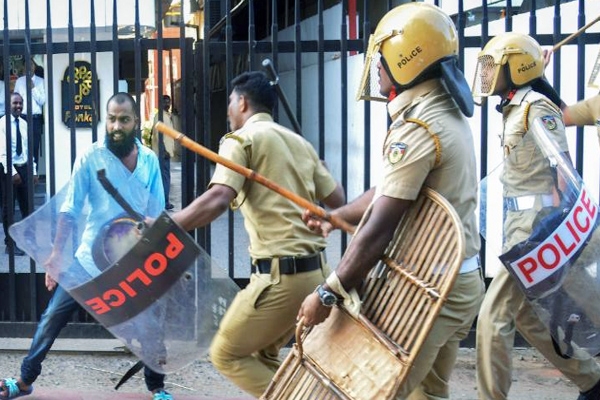 (Image source from: India Today)
A day after two women entered the Sabarimala temple, the situation in Kerala is remains tensed up as protests are being held in different parts of the state in dissent to the women's entry and opposition party has slammed the Pinarayi Vijay-led Left front government for the agitation.
Ever since the September 2018 verdict on Sabarimala, the state has been the site protests and agitations. The court lifted the ban on entry of women of menstrual age into the temple.
An activist of the Sabarimala karma Samithi, who was injured in a clash on Wednesday evening died at a hospital in Pandalam late night. The deceased is identified as 55-year-old Chandran Unnithan. He suffered head injuries after being allegedly hit by a stone during a clash between workers of the Bharatiya Janata Party and the ruling Communist Party of India (Marxist) in Pandalam.
Sabarimala Karma Samithi is an umbrella organization of various pro-Hindutva groups, spearheading protests against the Supreme Court's September 28 verdict.
Police said they have initiated a probe into the case.
In the meantime, the Opposition alliance - United Democratic Front (UDF)-is observing a 'black day' in Kerala today in connection with Sabarimala Temple women entry issue.
Besides the UDF, various Hindu outfits have also called a dawn-to-dusk 12-hour hartal in protest against the entry of two women of menstruating age into the Sabarimala temple of Lord Ayyappa.
As per initial reports, auto-rickshaws and two-wheelers were plying at the railway station in the state capital and various other places. But in Kozhikode, protesters blocked vehicles and burnt tires in the morning.
The hartal, which began at 6 a.m., has been called by Sabarimala Karma Samithi and Antarrashtriya Hindu Parishad (AHP).
The BJP is supporting the closedown while the Congress-led UDF is observing a "black day" on Thursday.
Various universities, including Kerala, Mahatma Gandhi, Calicut, and Kannur have postponed their examinations scheduled for Thursday.
Kerala Director General of Police Loknath Behera has directed all district police chiefs to take necessary actions and ensure routine life is not affected. He is learned to have instructed the officers to take strict actions against those involved in any kind of violence.
The agitation over the Sabarimala temple issue is not limited to Kerala as in neighboring Tamil Nadu, a Kerala government-run hotel was attacked on Wednesday night by unknown persons in suspected backlash over two women of menstruating age entering the Sabarimala temple, news agency PTI said in a report.
A police officer said that a facility run by the Kerala Tourism Development Corporation on the arterial Greams Road was attacked by unidentified people.
Though the attack was suspected to be a consequence of two women entering the Sabarimala temple in neighboring Kerala, the official said since the probe was at a "very preliminary stage" nothing could be confirmed as of now.
-Sowmya Sangam