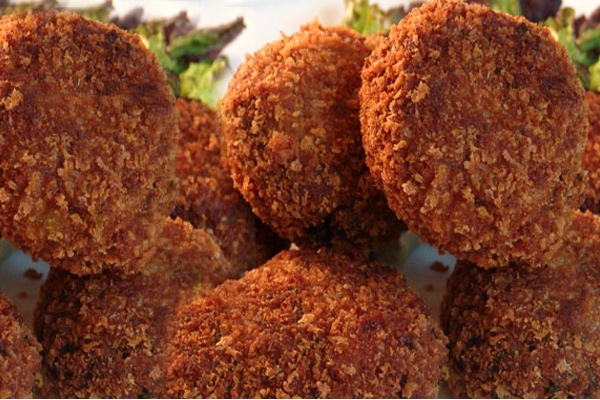 (Image source from: Nutrious and Tasty Beetroot Cutlet})
Combine taste and health in a way that your loved ones gobble up whatever you serve on a platter. The humble beetroot is not a favorite of most people. But its nutritional value can be matched by only few vegetables. Beetroot is fortified with iron, potassium, magnesium, folic acid as well as vitamins A, C  and B6. It also contains antioxidants and fiber. Besides, it's is great for reducing blood pressure.
Here is a simple beetroot recipe that you can try at home for evening snacks.
Ingredients
For the Filling
2 large Beetroot, grated
1 large Carrot, grated
1 large Potato
1/2 cup Green peas, optional
2 tbsp Peanut, roasted and peeled
1 tbsp Raisins, soaked
1 tbsp Ginger paste
3 chopped Green chilli
1/2 tsp Fennel seed 
Equal amount of Cumin, Coriander and Fennel seeds, roasted
1 tsp Turmeric powder
1 tsp Chilli powder
Salt
For Coating
1 tbsp Cornflour
1 tbsp Flour
1/4 cup Water
1 Egg, beaten, (optional)
Oil for frying
Method
Step 1: First boil the potato and mash it. Dry roast Coriander, Cumin and Fennel Seed, and then grind into fine powder in a grinder.
Step 2:  Take a pan, heat oil in it and add fennel seeds. Follow with Ginger paste and chopped green chillis. You can avoid chillies if you can't take the heat. Once its done, add the grated beetroot and carrot and saute for few minutes. Add salt, turmeric powder and chili powder, and cook till veggies are done. Now add mashed potato and mix well.
Step 3: Into the pan now add roasted peanut, roasted spices and boiled peas. Mix well with the veggies. Cook till all the veggies and ingredients mix completely. Turn off the flame and let it to cool.
Step 4: Once the veggie mixture cools, take a small portion in you palm and shape it into round flat cutlet.
Step 5: Make a batter in a bowl by using plain flour, cornflour, pinch of salt and water. It should be of medium consistency. Beaten egg (optional) can also be used.
Step 6: In another bowl pour some breadcrumb. Now take each cutlet, dip in the batter and then roll them into the breadcrumbs. The cutlet should be properly coated with the breadcrumbs. Coat all cutlets and keep them refrigerated for an hour.
Step 7: Take a deep frying pan, heat oil and deep fry the cutlets in medium flame. Fry till the cutlets are golden brown.
Serve hot with a sauce or dip.
(Picture Source: )
(AW: Pratima Tigga)