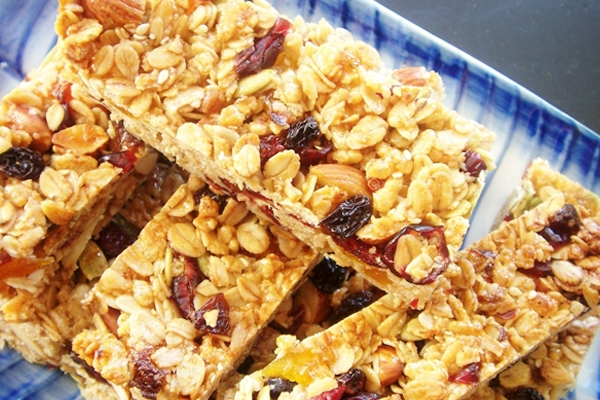 Give your child a healthy and homemade lunch box treat! Muesli Bars is very easy and high nutrition snack, loved by everyone. Try out this quick, easy to make recipe.
Ingredients:
Butter - 1/2 cup (unsalted)
Brown Sugar - 1/3 cup
Honey - 3 tablespoons
Oats - 1 cup
Hazelnuts - 1/3 cup (chopped)
Coconut - 1/3 cup (shredded)
Sesame Seeds - 1/3 cup
How to make Muesli Bars:
Take butter, brown sugar and honey in a pan and mix it well.
Cook it on low heat till the butter melts and sugar dissolves, stirring continously.
Remove the heat and keep it aside.
Now, add the oats, hazelnuts, coconut and sesame seeds.
Mix gently.
Take a greased baking dish and pour this mixture into it.
Now, bake it for for 16 to 18 minutes or till the top is brown in a preheated oven at 180C/350F.
Then remove and keep aside.
Once cooled, cut them into bars and store in an airtight container.
Also Read: Yummy Potato and Egg Salad!
Nandini