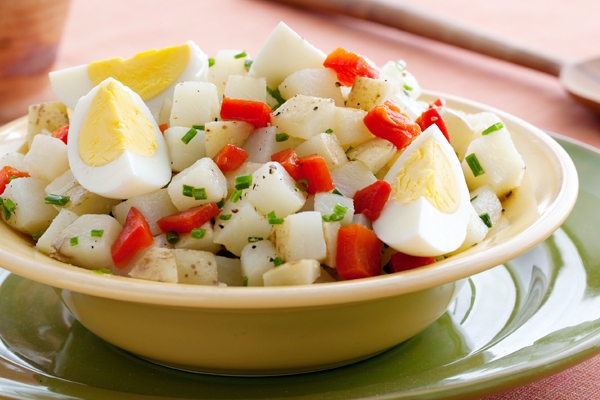 A great combination of nutrition! Potato and Egg Salad is a simple and delicious recipe with boiled potatoes and hard-boiled egg. Try this as a salad and breakfast as well.
To know how to make this delicious Potato and Egg Salad, follow the simple steps.
Ingredients:
Potatoes - 500 grams, boiled, peeled, halved (or quartered)
Eggs - 2, hard-boiled, peeled, grated or finely chopped
Mayonnaise - 4 tablespoons
Dijon Mustard - 1 teaspoon
Spring Onion - 1(chopped)
Sun-dried Tomatoes - 2 - 3 finely chopped (optional)
Green Capsicum - 2 - 3 tablespoons , finely chopped (optional)
Coriander Leaves – few (chopped)
Pepper Powder as per taste
Salt as per taste
Method:
Put the potatoes to a large bowl.
Now, add the eggs, Dijon mustard, spring onions, mayonnaise, tomatoes, capsicum and mix it well.
After mixing, sprinkle some salt and pepper.
Mix gently
Garnish with coriander leaves.
Cover it and keep in the fridge for at least 30 minutes.
It is ready! Serve.
Nandini