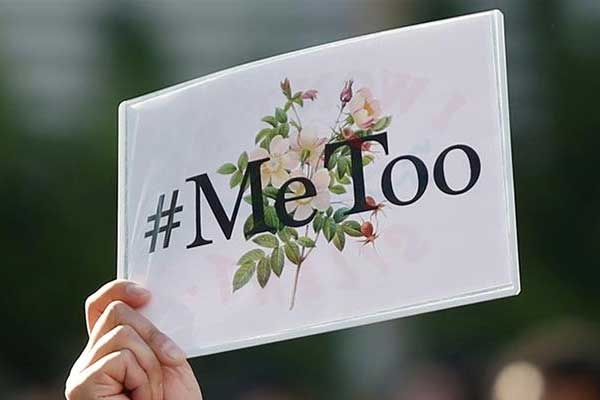 (Image source from: Al Jazeera)
Social media is spread across sexual assault accusations as the #MeeToo movement took aim at prominent journalists, editors, writers, and a comedian.

Scores of women, including galore journalists, came out this week with accounts of sexual harassment from colleagues and editors, accusing them of improper remarks, unwanted touches, demands for sexual activity, and the airing of pornography.

Umpteen personal tales of guilt and anger, which were buried under years of silence, came forth after journalist Sandhya Menon recounted sexual harassment she allegedly faced from two senior editors, KR Sreenivas and Gautam Adhikari.
Since I'm calling them out.

Let me tell you about @KRSreenivas who is currently resident editor @toi Hyderabad (I think) who offered to drop me back after a day's work.
We were about to launch Bangalore mirror back in 2008 and I had just moved to this city.

— Sandhya Menon (@TheRestlessQuil) October 5, 2018
And finally, one more calling out and I'm done.

Gautam Adhikari who was the editor in chief of DNA Bombay. His exec assistant and I were think friends and we'd go out a lot. Once he told her you girls are always going out, I'm new to the city show me some sights

— Sandhya Menon (@TheRestlessQuil) October 5, 2018

Sonora Jha, who currently teaches journalism at Seattle University in the United States, said she was too assaulted by Adhikari earlier in 1995.

"Two months after I had my baby, Adhikari, then the executive editor of the Times of India, visited our Bangalore office. He said I should come to his hotel room to discuss flexible work hours if I would like that," Jha told Al Jazeera.

"After I got there, he told me to relax, put my feet up, and lie down. I refused. He grabbed my face and forced a kiss on me, pushing his tongue into my mouth, trying to push me on his bed. I pushed him away and rushed out of the door," she said.

Jha said as a 27-year-old then, she felt "shaken and uncertain of future", but didn't want to be known as "that woman who accused the TOI boss". With a baby to look after, she decided not to pursue the case lawfully.
Multiple Accusations
I want everyone to know @Wootsaw is a piece of shit. He sent me a dick pic, was creepy, then cried saying I'll ruin his career if I tell others. I told two of the most influential men in comedy in India. Nothing happened. Let me tell you what else he has done with others.

— Mahima Kukreja (@AGirlOfHerWords) October 4, 2018

Subsequently, AIB, a prominent stand-up comedy group, apologized in an online statement for not taking action against Utsav, their former employee.
It's a little too late now but I am sorry. I really am. The past 24 hours were a crucible. I faced a very scary personal truth. I can't think of myself as a victim anymore. Please tell me what to do now. How to make things right? I don't want anyone to be hurt anymore.

— Utsav (@Wootsaw) October 5, 2018

Numerous other senior journalists and writers, including KR Sreenivas, Kiran Nagarkar, and CP Surendran, were involved in separate accusations of sexual misconduct.

An unnamed woman said famous photographer Pablo Bartholomew harassed her when she met him for an interview as a young reporter. When she refused his sexual advances, Bartholomew allegedly called her editor to say he did not have faith in her "ability to write an article about his work".
You know what happens when one person speaks up and is heard? More people find the strength to speak up. This one was sent to me by someone I trust, to share, about photographer Pablo Bartholomew. pic.twitter.com/QfNqQunE6t

— Deepanjana (@dpanjana) October 5, 2018

A principal correspondent at the Business Standard, Mayank Jain, was named as "sexual predator" by reporter Anoo Bhuyan.

An akin incident was recounted by another journalist with Jain where he repeatedly suggested "taking a room".
1. This Indian journalist here, is a #SexualPredator.
[Thread]:https://t.co/H3PbWwOcYZ

— Anoo Bhuyan (@AnooBhu) October 4, 2018

The allegations against potent editors like Adhikari and Sreenivas caused other women to impeach both of sexual abuse and forcible sexual advances.

While Sreenivas told Al Jazeera an internal committee of the Times Group will investigate the charges and he "will submit to the investigation", he refused to answer further questions.

Adhikari told Al Jazeera he "cannot recall the incidents from a long time ago that has been alleged".

"If I have ever made a colleague uncomfortable in any manner, I would readily apologize but I did not sexually harass anyone," said Adhikari.

Most women said they never reported their harassment, fearful of the impact on their careers. This suggests that the true scale of the problem is far greater than what is being reported.
Here's my story about a fellow-journalist, who continues to thrive. And, as I just found out, abuses other female journalists regularly.
CC: @TheRestlessQuil @AnooBhu @Vivx @newspaperwallah #MeToo https://t.co/SB0IC6W1wi

— Raksha Kumar (@Raksha_Kumar) October 5, 2018

A former editor at Huffington Post was named among one of the sexual harassers by several women, asking women for nude pictures.

#MeeToo Movement

The worldwide #MeToo movement was prompted by sexual wrongdoing and rape accusations by scores of women against Hollywood power baron Harvey Weinstein.

-Sowmya Sangam