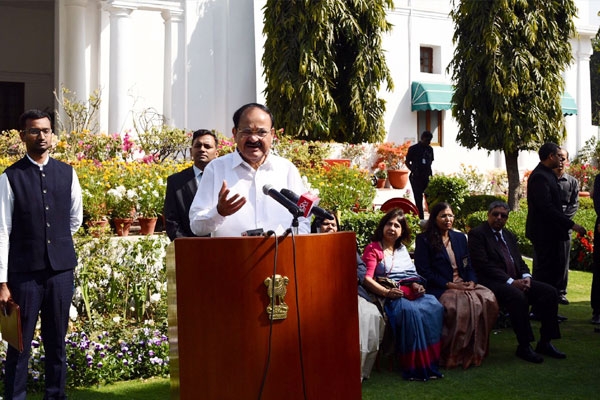 (Image source from: twitter.com)
VP M. Venkaiah Naidu has advised the IRS Officer Trainees to make ethics and excellence as their guiding principles. He was addressing the 173 Officer Trainees of the 72ndBatch of Indian Revenue Service, here today.
Vice President said that reforms in governance, path-breaking legislative and administrative measures like GST are changing the way we govern ourselves. Quoting Prime Minister's advice to all administrators - "Reform, Perform and Transform", he said that you have the aptitude and a unique opportunity to reform and transform our country with your performance, according to PIB.
Saying a lot of transformation is taking place in the Tax administration in the country to promote a culture of tax compliance, Naidu said that the most remarkable outcome of demonetization was the sustained growth of digital transactions leaving behind digital trail for the Revenue department to follow. As tax-authorities, you should encourage digital transactions and incentivize business to encourage their customers to adopt digital transactions, he added.
He quoted Kautilya who said that the government should collect the tax like honeybee which collects only appropriate amount of honey so that both could survive. Our effort too is to make our tax regime easy, transparent and predictable and we expect you to facilitate this process of further easing the tax regime without relaxing the compliance, he added.
Saying that IRS Officer Trainees are entering into this service at a crucial juncture in country's economy
He advised them to make India a business friendly, entrepreneur-friendly tax regime and a people-centric tax administration. He further said that India is the fastest growing economy in the world with restrained inflation and the steady economic growth, much better than most economies, makes India the best place to work
By Sai Kumar