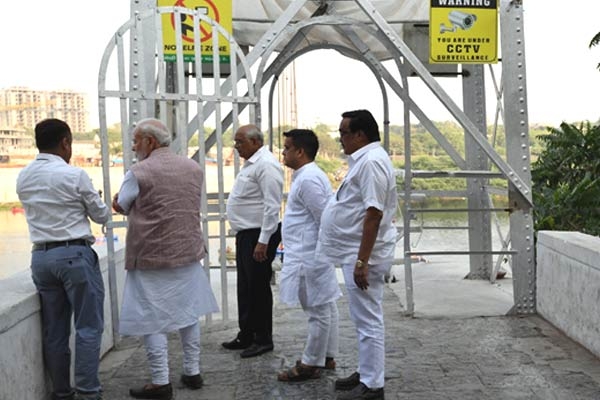 (Image source from: Twitter.com/narendramodi)
The Gujarat Morbi bridge tragedy shattered and shocked the entire nation. Indian Prime Minister visited the spot after which he visited the injured in the civil hospital in Morbi. He spoke to the survivors and inquired about their health. Narendra Modi chaired a high-level meeting and he reviewed the situation. He directed the authorities to stay in touch with the families that were impacted due to the tragedy. A detailed and extensive inquiry is ordered by Narendra Modi. The opposition parties Aam Aadmi Party and Congress accused the BJP for the tragedy and they called that the party is busy with event management of Narendra Modi. The Morbi bridge has been closed for renovation in March this year and it collapsed on Sunday night.
Went to Morbi, which witnessed the horrific bridge mishap. Met the bereaved families and extended condolences. I visited the site of the tragedy and went to the hospital where the injured are recovering. Also met those involved in rescue ops and chaired a review meeting. pic.twitter.com/hAZnJFIHh8

— Narendra Modi (@narendramodi) November 1, 2022
The bridge was reopened for the public four days ago. 47 children passed away in the tragedy. The Oreva Group renovated the bridge and it did not take any fitness certificate from the civic authorities before the bridge got reopened. Morbi municipal agency chief Sandipsinh Zala informed about the same. The contract was to keep the bridge shut for 12 months for maintenance. The cops lodged an FIR against the Overa Group calling it an irresponsible and a careless gesture. The tickets for the entry are sold for Rs 12 and Rs 17. More than 400 people were present on the bridge when it collapsed. The old metal cables broke down due to the severe pressure. Even after the renovation, some of the old cables were not changed. A Public Interest Litigation or PIL has been filed in the Supreme Court seeking a judicial probe in the incident.
पीएम श्री @narendramodi ने मोरबी सिविल अस्पताल पहुंचकर दुर्घटना में घायल लोगों से मुलाकात की व उनका दुःख साझा किया। pic.twitter.com/tVgLDkYYwx

— BJP (@BJP4India) November 1, 2022