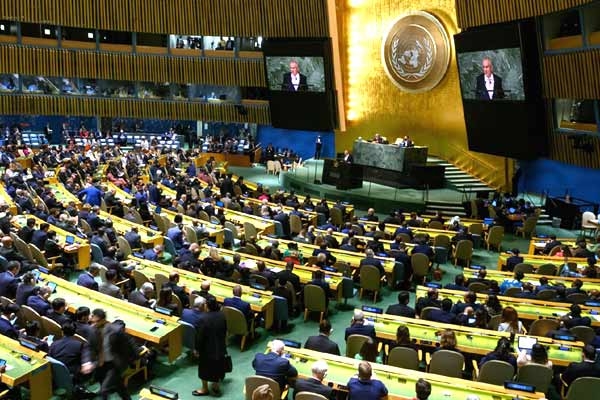 (Image source from: Twitter.com/UN_PGA)
At an emergency session of the United Nations General Assembly (UNGA), 143 nations voted against Russia for their attack on Ukraine. They condemned and rejected the annexation of Russia. Only four countries of the United Nations General Assembly backed Russia and 35 stood abstained. India is one of the nations that remained abstained. After the war began, India stood as support for Ukraine but this time, the nation stood abstained. India expressed deep concern about the Russian conflict on Ukraine. The non-binding resolution, titled "Territorial Integrity of Ukraine: Defending the Principles of the UN Charter", was brought to the UNGA.
Russians voted to condemn its referendum and annexation at the UN Security Council. The resolution condemned the attacks on Donetsk, Kherson, Luhansk and Zaporizhzhia. China, Pakistan, Sri Lanka and Cuba are the other nations who remained abstained. North Korea, Syria, Nicaragua and Belarus voted for Russia against the resolution. Bangladesh, Bhutan, Nepal, Afghanistan, and Myanmar condemned Russia. India's permanent representative to the UN, Ruchira Kamboj told that India is deeply concerned about the conflict between Russia and Ukraine including the civilian infrastructure and their deaths.