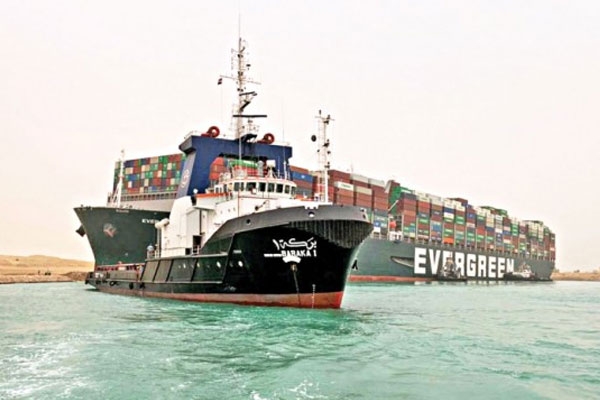 (Image source from: thedailystar.net)
The Indian government chalked out a plan with four points to deal with the Suez Canal blockage which impacted the entire globe. A meeting took place by the Indian government with the Logistics Division and the Department of Commerce. A massive container ship named 'Ever Given' blocked the Suez canal that connects the Mediterranean Sea with the Red sea through which several exports and imports of goods are done. Ever Given is fielded in the Suez Canal from Tuesday delaying other ships. The blockage of the Suez Canal is now hitting the global trade told the Ministry of Commerce and Industry.
The meeting has taken place about the prioritization of the freight rates, cargo, re-routing of the ships and the advisory to ports. Indian imports worth 200 billion USD are exported and imported through the route to and from Europe, North America, South America. Several goods including petroleum, organic chemicals, steel, iron, machinery, textiles, carpets, furniture and leather goods are imported and exported. Pawan Agarwal, Special Secretary (Logistics) chaired the meeting and it was attended by the officials of the Ministry of Ports, Shipping and Waterways, ADG Shipping, Container Shipping Lines Association (CSLA) and Federation of Indian Export Organisations (FIEO).
More than 200 ships are waiting on the north and south sides of the Suez canal and 60 more ships are added on regular basis. There are talks that prices of the freight rates will get increased. The blockage of the ship is causing a loss of 400 million USD every hour which is equal to Rs 2898 crores approximately. The mega-container vessel Ever Given is holding goods worth 400 million USD every hour in trade. Suez Canal happens to be the busiest trade route in the world.
By Siva Kumar