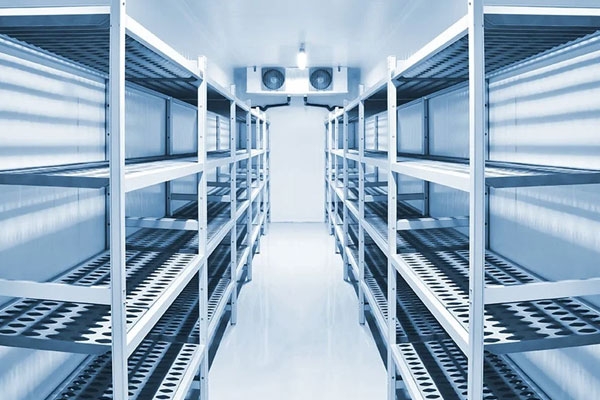 (Image source from: cloudfront.net)
Cold Storage is one of the essential segments today for storing medicines, food, groceries and now vaccines for the corona-virus. In India, cold storage spaces are prominent for storing three significant components: Food, Wine, and medicines, contributing to substantial annual revenue for the country. The ongoing pandemic has resulted in an uptick of demand for the F&G (Food and Groceries) segment and growth of online grocery sales, which has stoked demand for additional cold storage warehousing in India CSs help improve the shelf life of products storing food and groceries.- this line didn't make any sense to me. 
There is an expected growth in demand for OFD - (online food delivery) services in both rural and urban cities in this age of digitization and improved internet access.
Experts predict that by 2023, the India's cold storage space will double. India is also the single largest country market, at 150 million cubic meters for refrigerated warehouses globally.
Consumer buying patterns and preferences have changed significantly since the COVID-19 outbreak, such as F&G and healthcare, saw exponential growth given the rise in the number of online shoppers. This trend is expected to lead to a surge in private sector participation in the CS segment over the coming years.
The growing young and working-age population prefer healthy food options without preservatives, thus requiring CS facilities to ensure fresh delivery. Additionally, India culturally prefers fresh produce, thereby further boosting the need for setting up CS facilities close to residential areas.
Government initiatives to reduce post-harvest waste, encourage investment, and improve logistics efficiency, coupled with the OFD industry's growth, are expected to boost the overall CS capacity, value, and real estate stock.
The food processing industry has an investment potential of 33 billion USD by 2023. And out of 29 states, only 10 states contribute to a large share of 91% in CS facilities' spatial spread. The Cold storage segment has the potential to impact the ecosystem around the food and grocery industry positively. Because of the increased use of the internet to buy food, groceries, or goods, the demand for OFD services can further propel the demand for CS facilities in India.
Considering the vast untapped potential in the country's CS segment, unique consumer/industry-led factors in India will continue to attract the interest of leading players at large in the coming years. 
By Meena Atmakuri