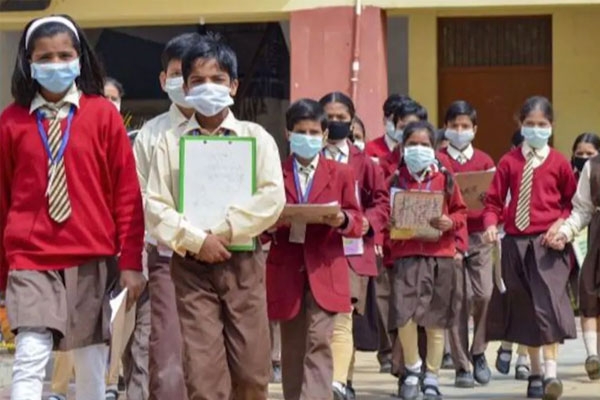 (Image source from: indiatoday)
The Union Ministry of Education has released a set of guidelines for the reopening of all schools from October 15.
The central government has left the decision in the hands of the state governments to decide which classes to reopen and which should not.
Earlier on Monday, a 54-page guidelines was issued by the central government on how the schools should be opened and what kind of arrangements must be made.
The central government also made it very clear that the state governments will decide when to open the schools depending on the case load in the respective states.
Which states will open the schools?
The central government has approved the reopening of schools in a phased manner from October 15 but the decision entirely lies on the individual states and the authorities.
Each state may issue a separate date for reopening the schools and some states have given the right to decide how to open the schools to their district administrations.
The Delhi government has decided not to reopen the schools from October 15.
In a similar manner, the UP government has left the decision in the hands of the district administrations to decide when to open the schools.
Many states like Rajasthan, Punjab, Chhattisgarh and Haryana have not decided when to open the schools.
Which classes will open first?
The central government has not specifically mentioned as to which standards of schools should be opened first.
The state governments will make this decision.
It has mentioned that, if possible, the school bags must be banned for the classes 1 to 5.
In September, the Union Government has allowed the students of classes 9 to 12 to visit the teachers at schools.
The state governments will also consider the similar way this time during the Unlock 5.
The higher classes may be reopened first and the primary classes later.
However, if any school wants to open the primary classes first, the central government will not object.
Moreover, it will be upto the students and the parents to decide if the students want to go for online classes or attend the school.
What about the attendance?
The Union Home ministry stated in the guidelines that the students will not be forced to go to the schools.
Attendance will not be banned but will be decided on the consent of parents.
In certain villages, where there is no online education, teachers must ensure that the child's studies are going in the right direction.
Schools are also prohibited from giving the awards like perfect attendance.
Will the exams be conducted?
According to the ministry of education, there will be no assessment for at least 2 to three weeks after the reopening of schools.
When the students take exams, it will be ensured that the exams are conducted online.
Assessment is allowed based on quizzes, puzzles, role play, presentations, designing and other portfolios.
Moreover, the children will only come to schools only when the parents give permission.
By Gayatri Yellayi