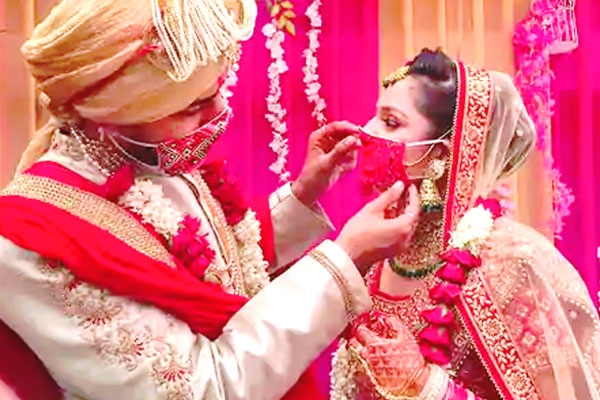 (Image source from: Livemint.com)
The Indian wedding industry is one of the worst-affected sectors during the pandemic as many of the marriages which are scheduled to take place in the first half of 2020 came to a stand still.
India has come to a halt ever since the start of the pandemic in March and uncertainty in the lives of people is everywhere as many of them lost jobs and industries have reported huge losses.
However, many of these sectors have a light at the tunnel's end but this is not a similar case with the wedding industry.
Indian weddings have a vague future for the rest of the year 2020 though the government has relaxed many of the restrictions in the form of Unlocks.
Now, as the country has reached the second half of the year 2020, the wedding industry remains unsure about how to go their way forward, though the industry hopes the things to get improved by November-December.
The estimated size of the Indian wedding industry is about Rs. 3 lakh crores in India with over one crore people losing their jobs amid the COVID-19 pandemic either directly or indirectly.
Many directors of the event management companies are suggesting big fat weddings to take place with the '4 square feet' formula in place to recover from the losses.
In the Unlock 4.0 guidelines, the government has permitted people to celebrate their weddings with 100 people after September 20. Earlier, the count was just 50.
The Indian wedding industry is known to be a booming and shining market with many countries preferring Indian businessmen to arrange for their big fat weddings in the exotic locations.
The estimated size of India's event industry is around Rs. 5 lakh crores out of which about Rs. 3 lakh crores will be solely consumed by the wedding industry itself.
When the lockdown was announced in March, the entire wedding industry has seen a severe low with around 1 crore people losing their jobs. Now, everything seems confusing to the employees now.
Many founders of event management companies like Frens and Petals, are saying the hope of summer weddings is already gone and there are losing hope at winter weddings too.
They also feel that as the government is only allowing up to 100 people for weddings, the hope would only raise if the number is increased by November or December.
Many weddings that are scheduled to be held in April and May have been canceled and half of them have not even re-scheduled their marriages this year.
- By Gayatri Yellayi