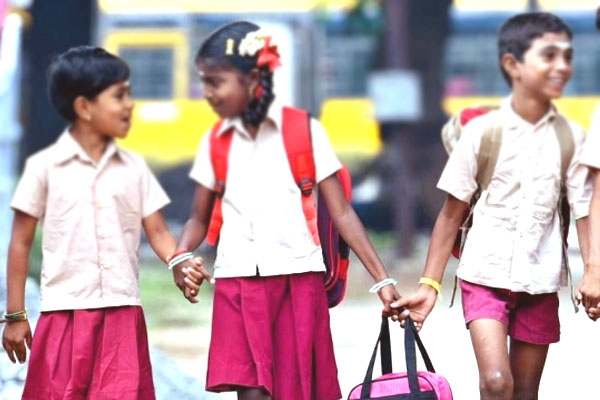 (Image source from: Newindianexpress.com)
More girls walk to schools than boys according to a recent survey by the National Statistical Organization (NSO).
National Statistical Organization (NSO) has recently conducted a study on school-going children and took down alarming results.
According to the study results, 60 percent of students in India go to school on foot, the number is significantly higher among the rural areas. Most of the students who walk to school are from primary and upper primary classes.
On average, more girls walk to school than boys who amount to 62 percent and 57.9 percent respectively.
The report concluded that about three-fourth of primary and upper primary students walk to schools on a daily basis and the number significantly comes down in the case of secondary and above level students.
The second most preferred mode of transport for Indian school-goes is public transport for around 12.4 percent of students, and bicycle for around 11.3 percent of them.
When it comes to the scenario of senior secondary school students, one-fourth of them prefer going to their schools by bicycle. Rural students who prefer bicycles stand at 12.6 percent while the students of urban origins stand at 7.6 percent.
The distance of the school from home seemed to be in synchronization with the mode of transport as observed in the survey.
This is because 77 percent of the households have the pre-primary school within two kilometers of reach which is why 84 percent of the primary and 75.3 percent of the upper-primary students travel on foot to the schools.
When coming to male students, around 61.4 percent of them travel on foot in the rural areas while only 49.4 percent of male students travel on foot in the urban areas.
In the case of girls, around 66.5 percent of them hailing from rural areas travel on foot, while 50.8 percent of girls go by foot in the urban areas.
According to the survey, the students prefer public modes of transport like buses, metros, trams, and autorickshaws but not cabs, taxis, or hired buses.
More than 12 percent of the urban students travel to schools by the transport provided by the employers of the parents. This number is 4 percent in the rural areas.
A detailed report was prepared on Household Social Consumption: Education, which surveyed 1.13 lakh households spread across 8000 villages and 6000 urban areas between July 2017 and June 2018.
The study involved around 1.52 lakh students across different levels.
The study noted that as the level of schooling goes up, the distance between home and school is increasing.
If 70.4 percent of the households have primary schools in their closer proximity, the number goes down to 32.4 percent in the case of secondary level students.
- By Gayatri Yellayi