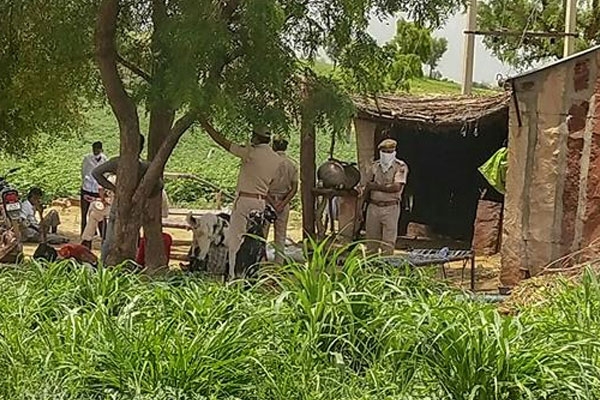 (Image source from: tribuneindia.com)
On Sunday morning, 11 members of a Pakistani Hindu migrant family were found dead in their farm as confirmed by the Police.
In what comes as an unparalleled incident, 11 member of a Jodhpur family in Rajasthan were found dead at a farm on Sunday morning. However, a member of the family was found alive outside the hut in which the family lived in Lodta village of the Dechu area.
The lodta village lies 100 km away from the Jodhpur city. However, the left over family member had no idea about the incident as it happened in the night.
Super Intendent of Police Rahul Barhat had said that they have not yet ascertained the actual cause of death but they believe that the family might have committed suicide by consuming some harmful chemicals.
He said that there was a smell of some chemical in the hut which the family might have consumed.
The family belonged to Bhil community from Pakistan's Sindh province and has come to India on long term visa in 2015. They had been living at the lodta village farm which they had taken for rent six months ago. The family's only source of income was farming.
The police have said that there were no injuries on any one of the bodies and there Is also no suspicion for any foul play. However, they have roped in a forensic team and a squad dog before driving into any conclusion.
A preliminary investigation indicated that there was some dispute among the family members over some issue. More details can be found out once the police start interrogating the survivor in the family.
According to a police officer, the family members had lived under constant threat from the family of their daughter-in-law, the wife of the survivor of the family, Keval Ram.
The daughter in law has been staying at her house in Jodhpur due to some issues and this might have issued from trigger for the dispute according to the police.
According to Keval Ram, the family had their dinner at 9pm and slept by 10 pm. As he had some work at the farm, he had to go and sleep there. In the morning when he came back, he saw all of his family members dead.
He then called his nephew who rushed to the spot and called police immediately. All the family members in this refugee family were below 40 years.
The deceased include two men, 4 women and 5 children. The incident raised questions on the working of Ashok Gehlot government by Jodhpur MP.
By Gayatri Yellayi