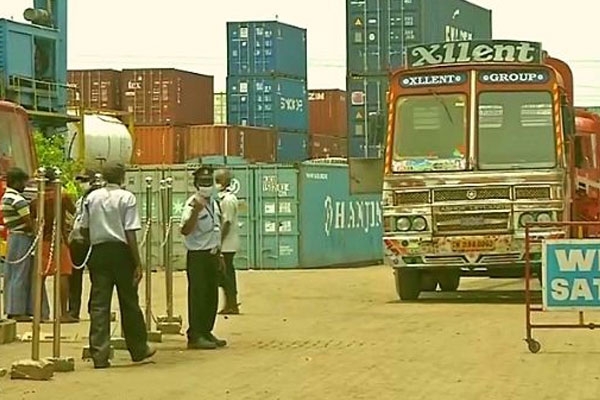 (Image source from: cloudfront.net)
An approximate 740 ton of ammonium nitrate is being stored in Chennai's port house since 2015.
A 740 ton consignment of ammonium nitrate which was lying at a warehouse in Chennai has raised alarms after the disastrous Beirut explosion. An estimated amount of 2750 ton of ammonium nitrate is being reportedly stored in the port customs warehouse since six years has blown up killing over 100 in the Lebanese city.
Referring to this blast in Beirut, the Central Board of Indirect taxes (CBIC) has urgently directed the customs and field formations to immediately check and verify if any explosive material is lying in the warehouses or ports across the country within 48 hours.
It also urged the officials to check if all the warehouses are meeting the standards of security and safety and fire standards and also asked them to ensure the places are safe and does not cause any threat to human life or properties.
Responding to this, the Chennai stock pile source has issued alert and is looking out for ways to shift out the ammonium nitrate at its warehouse the earliest.
An official at Chennai told media that there is difficulty in taking action keeping safety of people in mind. The official said that they are going through the details and the e-auction will be conducted soon as per law like for any other confiscated or seized goods that are lying for a long time.
The stockpile at Chennai port relates to a case of seizure of import Karur based Shri Amman Chemicals, 5 years ago.
The company, in September 2015 had filed for the customs clearance of the ammonium nitrate which is packed in 37 containers with a value of Rs. 1.8 crore claiming for use in agriculture.
The company claimed that it had acquired license for import while the custom authorities alleged misclassification and resultant evasion of duty after which the Madras High Court ruled in favor of Customs.
As a result, the ammonium nitrate consignment has been lying in the Chennai port with Customs department since years.
PMK Leader S Ramadoss took to twitter and said that a similar kind of explosion like Beirut might take place in Chennai's warehouse and to avoid it the consignment must be immediately disposed of and be used for other purposes like composting.
In a statement, the Chennai Customs said that the Chennai warehouse is at a container freight station in Manali which is 20 km from the city with no residential locality within 2 kilometers.
However, to ensure the safety of people, the consignment of ammonium nitrate would be disposed of within a short period of time following all safety measures, the Chennai Customs confirmed.
Ammonium nitrate is not an explosive by itself but is used as an active chemical in preparing the explosives.
By Gayatri Yellayi