(Image source from: opindia.com)
A 15-year-old girl was allegedly raped and murdered in Dinajpur district in West Bengal. The brutal incident triggered protests across the state.
The rape and murder of a teen in a district of West Bengal has erupted protests across locals and even politicians across the state. Following the incident, BJP leaders have accused Trinamool Congress of creating an environment of terror in the State.
The 15 year old girl has recently cleared the West Bengal Madhyamik examinations. She was killed in Sonarpur area of Dinajpur district. The girl was first kidnapped and then was taken to another isolated place where she was raped and left to die.
Her body was found near a banyan tree and allegedly froth was coming out of her mouth. People of the state also claim that the girl was forced to consume poison.
Her family members allege that the girl was gang raped and murdered and they suspect five Muslim men behind the brutal act.
Locals said that the girl went missing since Saturday evening and her body was found on Sunday morning.
However, West Bengal Police tweeted that there were no injuries on the body of the girl though the locals have alleged a sexual assault.
After the body of the minor was found in Sonarpur area, locals have blocked National Highway 31 demanding justice for the victim. They say that they would continue to protest till the perpetrators were found and punished.
The locals have also mutilated the buses and set the vehicles on fire as part of their protests.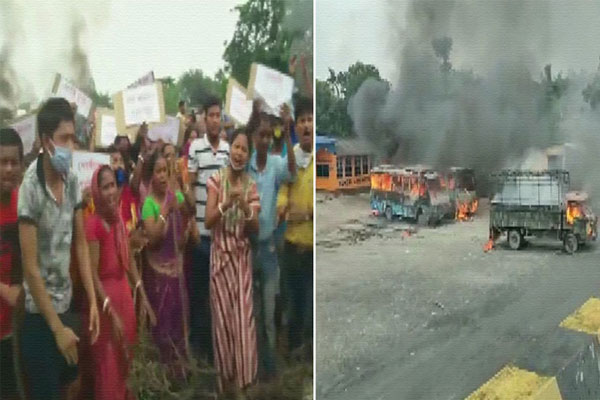 (Image source from: thelogicalindian.com)
West Bengal Police have recovered a cycle, two umbrellas, a cell phone and an Aadhar card from the spot. The Police say that these evidences would be enough to catch the culprits.
Amid the protests by locals, Police have fired tear gas in order to disperse the crowd and stop them from vandalizing public properties.
BJP leader Surajit Sen claim that TMC goons are behind the arson and the terror created in the area.
Despite having a woman Chief Minister in the state, West Bengal ranks among the states with highest number of atrocities against women, according to a BJP MP.
West Bengal Tourism Minister and TMC leader had said Chief Minister Mamata Banerjee took heed to the case and instructed action. He also asserted that those behind the act would be severely punished by the Government.
However, the situation in the state is worsening with the involvement of religious groups in the protests by the locals for justice to the victim's family.
By Gayatri Yellayi