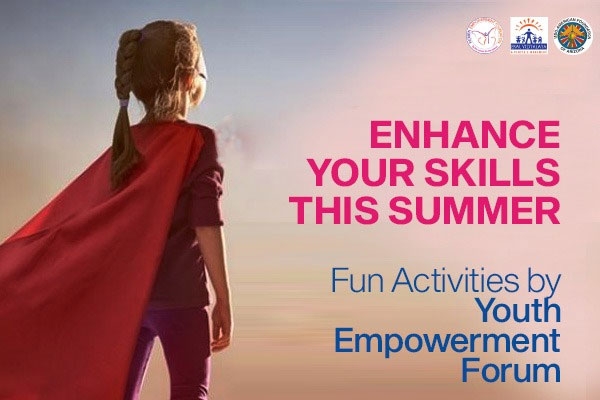 Want to learn new skills in a fun way this summer? This course will help you do just that. Our program features a variety of classes designed with a specific purpose: To help children of all ages explore new activities through this tough time. However, we understand that it is summer vacation, and nobody wants to work anymore, so we make our classes fun!
For example, our 'Python Programming by a Data Scientist' class, targeted towards 12+ years to high school students, helps people learn about Programming skills, Python as a programming language with the real hands o projects in a fun way! Each person in this class gets fake money and learns how to spend it on real stocks wisely (See below for more information). If learning stocks is not up to your alley, try the other 13 courses in our program. Starting in June, you can choose from a selection of Cooking; Chess & Intellect Games; Photography; Fitness/Yoga, Exercise, Active & Healthy Life; Music Fundamentals, Vedic Maths, Genetics and so much more! To see a selection of all our courses, keep reading. (The list is subject to change)
Sign up for our courses here: Registration Form
Who We Are & How are we helping?
We are part of the YEF foundation, standing for Youth Empowerment Forum. YEF is an initiative by WEF(Women Empowerment Foundation) and supported by many social organizations such as Ekal, IACRF, and Indo American Community. The YEF is lead by teens in Arizona who are committed to helping other children doing fun activities and learning new skills over the summer. WEF is an organization that supports women during hard times. They agreed to help our organization in funding, advertising, advice, and more.
YEF team is aware of many underprivileged kids worldwide and wants to bring education to needy kids as part of this program by donating any funds collected to Non-profit educational organizations that seek the betterment of education. After studying and understanding many non-profits, YEF found a Gandhi award winner, EkalVidyalaya, a non-profit organization that brings primary education to every child across rural India.
 EkalVidyalaya, with almost nil overheads & with volunteer help, successfully provides education to 30 students with a mere $1 a day or $365 a year. YEF team learned that Ekal is running more than 102,000 schools empowering more than 2.8 Million rural kids with basic education.
With these noble thoughts, YEF quickly put together an action plan for the past 3-4 weeks and working on launching the Fun Summer Activities programs from June 2020.
More details on the courses we offer in this program (subject to change):
First Aid and Disaster Management
 First aid is very important to know in times of misfortune and crisis. The course's disaster management aspect allows students to learn vital tips and tricks to survive in unexpected situations. These two subjects are combined to teach CPR, how to make DIY casts, proper wound care, and many other brilliant things that can be used to save people's lives and are good things to know just in case. This class will also come in handy in unforeseen circumstances, like natural disasters or medical emergencies.
Vedic Math
Vedic math is a course that helps build the basics of math and helps students to solve problems accurately. However, nobody would like to join a MATH, EDUCATIONAL class over the summer! So we made it a fun way to solve math problems and, even better, there is no peer pressure from your teachers or friends! It is the perfect class to take if you struggle in math or brush up on some skills, which can help you excel in your math class next school year. This class is taught by Ms. Sweta, a certified trainer in this subject. She has been teaching for more than 15 years and has done workshops on Vedic Math for the past three years. Join this class to get a taste of her expertise at a little cost!
Cooking and Healthy Lifestyle
 Cooking and Healthy Lifestyle is a very well-balanced class that teaches how to make dishes in Indian and American cuisine with ease. Adult supervision will be required as stoves and heat appliances will be utilized to create our dishes. The course also provides detailed pointers in food choice and healthy manners that create good lifestyle habits for the young cooks to learn. It is the perfect way to get kids into cooking, help people who have never picked up a knife, or make their food! This class can benefit anyone, especially people who are going to college and need to make food fast. A preview of what we will be cooking: Blueberry Muffins, Vanilla Cake, French Crepes, Potato Fry, and 13 more dishes you can make at home for dinner!
Python and Software Language
The world of technology changes and evolves by the day, but this course can help you stay caught up or even get ahead of modern technology by teaching Software Languages and Python. This course is very informative and explains many things that benefit aspiring software engineers or just people who want to see what's under the hood of new sources on the Internet. By the end of this course, you will know that a computer is a lot more sophisticated than you think and you will learn a new language!
Introduction to Business and Money Management
 Business is tough to pursue without experience and money management. This course helps build business and money management skills that are essential in the long run for young entrepreneurs. This class is open to anyone over 12 years old who wants to build a strong foundation before getting into the real world. The course is a little focus related, but there is always a way that the teachers will make it fun!
Fitness and Yoga
I know, I know. The name of the class makes you turn away. But this class can help you increase your well-being. Because of the stay at home order, being active for a long time and exercise is at an all-time low, and health will further deteriorate unless exercise is practiced. We added yoga too because it is a simple form of exercise and one of the few exercises that make the performer feel refreshed physically, mentally, and spiritually. This class keeps you active and teaches yoga postures that can bring learners to peace. We made some challenges, too, so see if you have the toughness to win it!
Writing and Publishing an Article
 Even though the class sounds boring, keep in mind that writing is an essential skill in high school and college. This course will help you jump ahead of your classmates, write amazing essays, and enter some awesome contests! In this class, we teach the foundations of writing and enforce them. We also educate you on the different types of essays and the different parts. There is a lot more to an essay that you might know, and this course will reveal that!
Arts and Crafts/Sewing
 Is writing articles or software language not that interesting? This class is for people who want to work their imagination and make new things over the summer! With professional teaching by Ms. Swarna, you will learn how to sew and make things that match your personality and are customized to your style. We will also teach different art projects that would make a great addition to your home. This is an "escape from reality" chance, and we hope you leap for it!
Building a Website and Internet Safety
 We are on the Internet all day, now that everyone is at home. But ask yourself: Do you know how to be safe on the Internet? If the answer is 'no' or 'umm,' then this is the class for you! Practicing safety on the Internet and knowing the internet rules is very important. However, this class comes in two parts. After learning internet safety, we go a little crazy and build our website! This website can be on whatever you like, and you can join this class as long as you are 13 years old or older. Join us for some fun and let your imagination lose building a website!
Fundamentals of Stock Marketing
 As I mentioned above, learning about stocks in a lecture is boring. So this class gives a chance to experience the stock market world in real life, something a lecture itself cannot provide. Our teachers supply each person in the class with fake money and teach you how to spend it wisely on REAL stocks in a game! Anyone who wants to go into the stock market world needs to know the foundations of stock marketing, something you can learn this summer through this fun-filled class. There will be one class every week where the teacher will educate the students, but the students can spend on stocks Monday through Friday. The students will then check in with the teacher during the class before the lesson, and the teacher will give the necessary advice.
Music Fundamentals
 Music is a daily part of everyone's lives. We are always listening to music, many play a musical instrument, and there are many other things people use music for. However, how is all the music played? As in, do you know the notes or the basics and history of music? This class will reveal the music's fundamentals, the history of music, and maybe a little surprise at the end of the course where you will compose and perform your music! We teach the main foundations, such as the different types of staff, rhythms, and a lot more. It is a fun way to start learning the basics of something so heavily influencing our lives. Care to join us for some fun this summer?
Mind and Logic Games
This class is split up into two parts over four weeks: Chess and how to solve a Rubix Cube. During this time of no school, it is essential to keep the brain exercised so that it keeps the brain cells active. That is why we created this action-packed class. During the first part of the course, you will be introduced to the techniques of solving a Rubix Cube. It is also a chance to enhance your 3-Dimensional thinking and problem-solving skills. After four weeks, the course's focus turns to Chess, featuring the Queen's Sacrifice, Double Attack, Overloading, and more. If you are 10 years old or older, join us to keep your brain at work so that it does not lag!
Photography Basics
Do your parents ever tell you that you need to learn how to hold a camera or that you need to learn photography? Well, this is your chance! In this class, you will learn the basics of photography, starting with how to hold a camera. You will learn how to use a camera to capture beautiful memories in real life. With these basic steps being taught in this class, plus the learning of Portraiture, Elements, and Composition, learn how to take the perfect picture to capture the beauty of the world. You don't even need a special camera!
Introduction to Genetics
Where do we come from? What makes us who we are? How are we all different from one another? These questions all fall under the presence of genetics, the study of genes, and heredity in all living organisms. These are only a few of the questions that we will be answering throughout this program. We learn about how scientists have come across the very nature of genes and how this study has progressed throughout the years, meshing with technology and creating very new and exciting ideas within our society. It is an incredibly diverse and fun subject that was not meant to be taught lecture style but with a combination of hands-on and experience. So join us as we explore our characteristics while performing experiments and tasty delights in the name of genetics!
Article By - Aashi Hemdev


"My name is Aashi Hemdev. I am 12 years old and a Rising 8th Grader at BASIS Phoenix. My hobbies include playing the flute, reading, public speaking, and swimming. I would love to share my skills with other kids, and that is why I am part of the YEF organization. My interests in learning new things and expanding my knowledge is one of the main reasons I would love to see the YEF organization expand and teach a variety of new skills! The YEF is an amazing leadership opportunity and I hope to continue contributing towards this project."