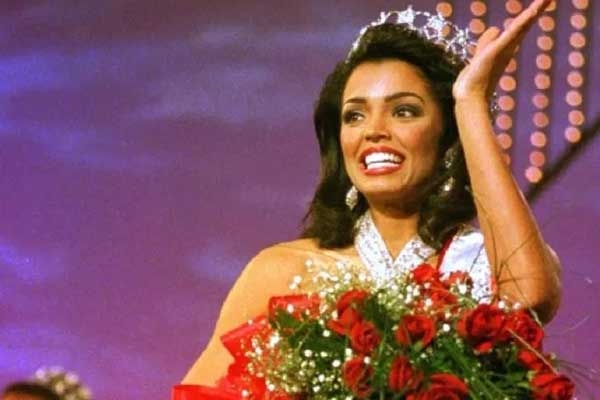 (Image source from: Archy Worldys)
Chelsi Smith, the first and only Texan to wear the Miss Universe crown, died Saturday at the age 45, after a year-long battle with liver cancer, according to her family.

The beauty queen from Deer Park began her 1994 victory streak at the Miss Galveston and Miss Texas pageants, where she celebrated her biracial heritage and vowed to take on racism. She snagged the coveted Miss USA title in 1995.

When judges at the Miss Universe competition in Namibia, Africa, tapped her the winner over 81 other contestants, She was 22 and attending San Jacinto College.

Bollywood actress Sushmita Sen, who had crowned her Miss Universe as her successor, took to her Twitter account to mourn the loss of her "beautiful friend". She shared a throwback picture of the crowning moment and wrote, "I loved her smile & that generous spirit!!! Rest in peace my beautiful friend @Chelsi_Smith #MissUniverse1995 Dugga Dugga."
I loved her smile & that generous spirit!!! Rest in peace my beautiful friend @Chelsi_Smith #MissUniverse1995 Dugga Dugga pic.twitter.com/rm63b98Q72

— sushmita sen (@thesushmitasen) September 9, 2018

Jarrod Klawinsky, a spokesman for Smith, said she was diagnosed with cancer in spring 2017.

"It just got worse throughout 2017, and this year she became extremely weak," Klawinsky told the Houston Chronicle.

In August, Smith went to her mother's home in Pennsylvania, where she remained until she died Saturday afternoon. A statement from Smith's family lauded her as "an example to young women around the world."

"We are heartbroken to share the news that Chelsi Smith has passed away following a protracted illness," the statement read. "Chelsi was our loving daughter, niece, and friend. We will miss her infectious laughter, joie de vivre, and free spirit. She left an indelible mark on all those who knew her."

A 1991 graduate of Deer Park High School southeast of Houston, Smith was raised by her grandmother. Her mother was white and her father was African-American. Smith objected to being identified as black while competing in the pageantry circuit.

"If people are going to know me," Smith told the Houston Post, "I just think it's important for them to know I'm half-black and half-white and that it hasn't been a disadvantage."

She looked back on her pageantry life with disenchantment for letting her to doubt her identity. "You forget who you really are and where you came from and why you are there," she said in 1997, after relinquishing her Miss Universe crown.

Smith pursued a music career in Los Angeles, after the Miss Universe competition. But she lived in Montrose, where she worked as a pageant coach and called Houston home.

She is survived by her mother, Mary Denise Trimble, and aunt, Paulette Trimble. A memorial for Smith is being planned next month in Houston.

By Sowmya Sangam