Five Killed as Charted Plane Crashes into Under Construction Building in Mumbai
June 28, 2018 17:34
(Image source from: The Guardian Nigeria)
Five persons killed including, four persons on board as a private aircraft crashed into an under construction building at Ghatkopar in Mumbai on Thursday afternoon.

The aircraft was scheduled on a local flying trip to and from Juhu, which had two pilots and two aircraft maintenance engineers on board.

According to officials, the aircraft had been in touch with the Air Traffic Control in Juhu and cleared to land at two miles from the Juhu airport runway. It, however, crashed at a distance of one mile from the Mumbai airport's main runway.

Joint Director General of the Directorate General of Civil Aviation (DGCA) Lalit Gupta stated that the aircraft, a King Air C-90 aircraft (VT-UPZ), belonged to U.Y. Aviation Pvt Ltd., which had bought it from the Uttar Pradesh government.

"The aircraft took off from Juhu airport for a test flight. A DGCA team is on the way for preliminary investigation. The Aircraft Accident Investigation Board (AAIB) shall do a detailed one," Gupta said.

Civil Aviation Minister Suresh Prabhu said he had directed the DGCA to conduct an investigation into the incident.

"There was a huge explosion and the adjacent tree caught fire and the fire spilled on the streets," a man told a media source.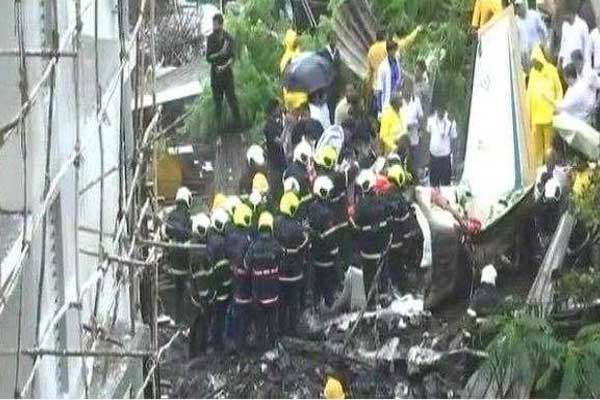 Image source: msn
"Initially we assumed an electric box in the under construction building must have caught fire but when we checked out the spot, we found the charred body of a man who apparently was on the bike when the plane crashed," he added.

It took over an hour to put out the fire.

By Sowmya Sangam