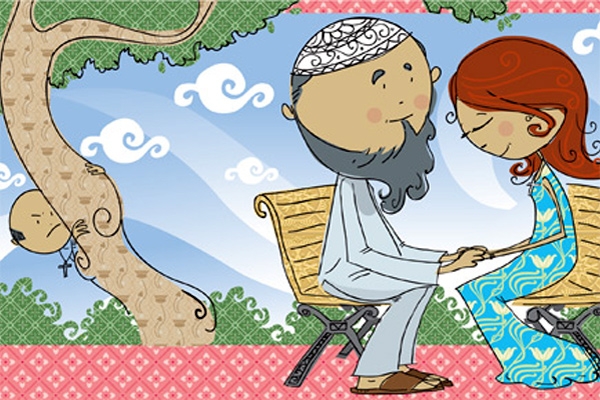 (Image source from: Love Jihad is a myth!})
Besides "Ebola hemorrhagic fever" and "Ice Bucket Challenge", if there is another term that has gone viral on the web, it is Love Jihad".
A term floated by some Hindu organizations, "Love Jihad" is RSS and its rightwing affiliates like the Dharma Jagran Manch's newest agenda.
The last month, we saw an aggressive, systematic uprising around "love jihad". And the coming days aren't going to be any different in UP with political and religious groups planning massive "awareness" rallies against this alleged trick of forcefully converting Hindu women to Islam through love and marriage.
Incidentally, this latest movement bears an eerie resemblance — the jargon, language and symbols — to an "abduction" and conversion campaign launched by the Arya Samaj and other Hindu revivalist bodies in the 1920s in UP.
Love marriages, especially those transcending caste and religious territories, have offended some customs and norms, and urged deep reactions.
The inter-meshing of romance, marriage and conversions has almost always led to increased fears, largely politicised representations and tremendous violence, on the bodies of women.
When Hindu assertion reaches new heights, the Hindu woman's body particularly becomes a marker to enthrone communal boundaries in ways more aggressive than ever.
The 1920s in UP witnessed a flurry of orchestrated propaganda campaigns and popular inflammatory and demagogic appeals by a section of Hindu publicists against "abductions" and conversions of Hindu women by Muslim goondas, ranging from allegations of rape, abduction and elopement, to luring, conversion, love and forced marriages, although the term "love jihad" was not used at the time.
Drawing on diverse sources like newspapers, pamphlets, meetings, handbills, posters, novels, myths, rumours and gossip, the campaign was able to operate in a public domain, and to monopolise the field of everyday representation. Pamphlets with provocative titles like "Hindu Auraton ki Loot", which denounced Muslim propaganda for proselytising female preys, and "Hindu Striyon ki Loot ke Karan", an Arya Samajist tract showing how to save "our" ladies from becoming Muslim, appeared at this time. The love jihad campaign of today, too, is using similar tropes.
The tales of the 1920s and of 2014 have certain common strains. Both campaigns are critically tied to a number-crunching politics and claims of Hindu homogeneity.
Inspired from a writeup by Charu Gupta
AW: Suchorita Chowdary