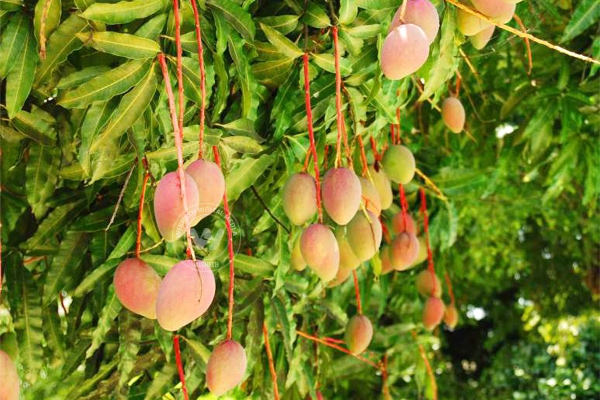 (Image source from: Seedless mangoes to tickle your taste buds})
Mango lovers cannot thank Indian scientists enough. For the scientists have developed a new variety of seedless mangoes. The new variety of fruit is reportedly finely textured and juicy. When ripe the delicious fruit gives a sweet and distinctive flavour.
The new variety of mango named Sindhu has been developed from hybrids of Ratna and Alphonso mango varieties, said V.B. Patel, Chairman Horticulture Department, Bihar Agriculture University(BAU).
Now the Sindhu variety is under trial at different labs in the country. But the BAU result suggests that the new variety is suitable for kitchen gardening as well as integrated horticulture.
Patel says that the BAU team is enthuastic and confident that they will improve the seedless mango variety. An average Sindhu mango weighs 200 grams. Its yellowish pulp has less fibre compared to other varieties, added Patel.
The fruit was originally developed at regional fruit research centre Konkan Krishi Vidyapeeth at Dapoli in Maharashtra. Trials, this year, have revealed that Sindhu produces good harvest from a three-year-old plant. The fruit generally grows in bunches and starts maturing by mid-July.
BAU vice chancellor M.L. Choudhary says the university has plans to distribute the Sindhu variety to mango growers by next season on an experimental basis. He believes that the seedless variety has good potential for export.
Trials revealed that the variety can be grown under local conditions as well, said Patel.
Indian state Bihar ranks third in mango cultivation in terms of area covered. Bihar's Bhagalpur covers almost 50 % - nearly 38,000 hectares - of the total area under mango cultivation in the state. Last year, the region produced over 1.5 million tonnes, according to the National Horticulture Mission (NHM).

Bihar grows mango varieties like Daseri, Chausa, Malda, Gulabkhas, Mallika, Jardaloo and Bumbai.
(AW: Pratima Tigga)