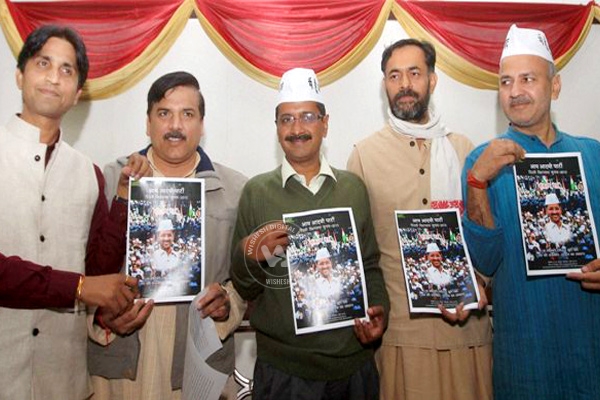 (Image source from: AAP pledges to decriminalize gay sex if elected})
AAP is truly emerging as a party for the new-age India and how?
In its Mumbai manifesto or "sankalp patra", AAP has pledged to decriminalize gay sex by repealing section 377 of IPC, if voted to power. Not just that, it has also vowed to add more women police force into the cadre as well as have a "zero tolerance" crimes against women.
"Mumbai is special(in itself),"activist-turned-politician and AAP's candidate from Mumbai North East seat Medha Patkar said.
The "sankalp patra" was released at a press conference attended by all the AAP candidates contesting from all six Lok Sabha seats in Mumbai.
Emphasizing on eradication of corruption from the system, the Arvind Kejriwal-led AAP, which is contesting from all 48 seats in Maharashtra, has swore to bring in positive changes in the country, if elected.
The AAP's Mumbai sankalp-patra or manifesto also promises to bring in Jan Lokpal Bill in Maharashtra and implement all recommendations made by Justice Verma Committee - a committee formed in 2012 after the brutal gangrape accounting to death of a paramedic student in Delhi.
Besides these, the manifesto includes promises like:
1. Introduction of more women officers at all levels in police force
2. Forming neighborhood watch groups so as to facilitate effective policing
3. Zero tolerance to violence against women.
AW: Suchorita Chowdary