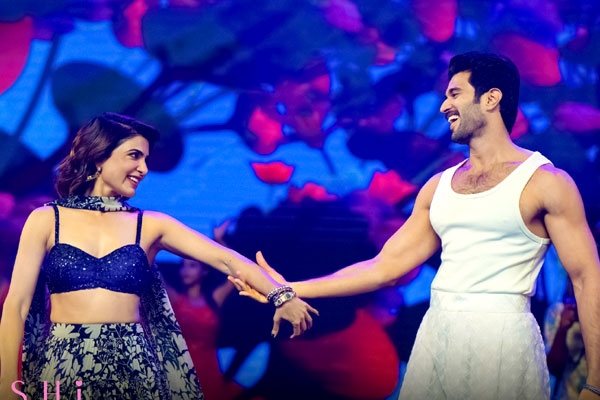 (Image source from: Twitter.com/MythriOfficial)
On Tuesday night there was a grand musical night by the Kushi movie team as part of their film promotions. They had a live performance on stage, where Vijay and Samantha created the magic on stage. Vijay lifts Sam and swings around and then Samantha jumps towards him. Overall audience was mesmerized by the wonderful chemistry between Vijay and Samantha.
The audience was a witness to something very special at the #KushiMusicalConcert

Viplav & Aradhya are just 

Watch the concert live now!
- https://t.co/JR5r0KZ7F2#Kushi in cinemas SEP 1st @TheDeverakonda @Samanthaprabhu2 @ShivaNirvana @HeshamAWMusic @saregamasouth pic.twitter.com/zBnK6B0C0j

— Mythri Movie Makers (@MythriOfficial) August 15, 2023
Vijay Deverakonda and Samantha Ruth Prabhu interacted with the audience as well. They had quite enough chemistry all through the event. Samantha said she has taken many breaks because of her health issues and thanked Mythri Movie Makers for their patience. She was emotional and expressed her love to her fans. Vijay Deverakonda also interacted, guess Vijay was completely spellbound by Sam's acts and he went her praising all through the event. Vijay also thanked Shiva Nirvana. Producer Naveen also heaped Samantha, he said Samantha is their lucky charm.
The dapper looking @TheDeverakonda and the gorgeous @Samanthaprabhu2 from the #KushiMusicalConcert

Watch the concert live now!
- https://t.co/JR5r0KZ7F2#Kushi in cinemas SEP 1st @ShivaNirvana @HeshamAWMusic @saregamasouth pic.twitter.com/dv9gIrEcmM

— Mythri Movie Makers (@MythriOfficial) August 15, 2023