Aranya Movie Review, Rating, Story, Cast and Crew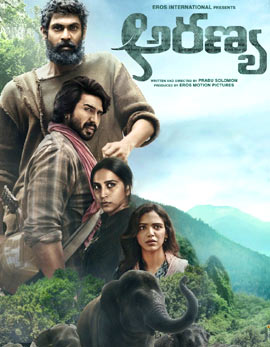 Rating:

Director:

Prabu Solomon

Cast:

Rana Daggubati, Vishnu Vishal, Zoya Hussain, Shriya Pilgaonkar

Banner:

Eros Motion Pictures

Producer:

Eros International

Music:

Shantanu Moitra

Release Dt :

Mar, 26 2021
Story
Aranya is the story of a man Narendra Bhupathi (Rana Daggubati) who is named Aranya. His love for forests, elephants and nature brought him appreciations from the President of India. Aranya loves to enjoy the nature and protects the elephants. Indian Minister for Forests (Ananth Mahadevan) plans a massive township that destroys forests. Despite several efforts from Aranya, the damage never gets reduced. The rest of Aranya is all about how Narendra Bhupathi takes the fight to the next level to save the forests and elephants. Watch Aranya to know about the story.
Analysis
Aranya has a decent first half. The technical aspects are the film's major strength and it is Rana Daggubati's show all over. Aranya is shot in thick forests across the globe and the first half of the film stands decent. The director takes enough time to narrate the characters and set up the premises. The first half an hour is the highlight of the movie. The story gets unfolded slowly and the first half of Aranya is engaging and impressive. The production values are grand enough and the makers spent lavishly on the film.
The second half of the film which is quite crucial fails to deliver the needed content and live up to the expectations. Several logics are missed and the threads are not connected. Some of the characters are ended though they are crucial. Rana Daggubati carries the entire film on his shoulders. The film turns slow-paced and picks up right before the climax. The climax is well narrated and presented. On the whole, the second half of the film offers nothing much except some grand technical aspects. On the whole, Aranya makes a decent watch for those who love interesting films.
Performance
Rana Daggubati offers a treat as Aranya. He fits perfectly in the role and he is flawless. His expressions, body language and mannerisms are the highlights of Aranya. Shriya Pilgaonkar does a good job in the challenging role as a journalist. The love track between Vishnu Vishal, Zoya Hussain is interesting and they are good in the roles. Anath Mahadevan is decent as a minister who sparks controversy. Raghu Babu has a meaty role that entertains the audience. All the other actors are good.
The basic plot of Aranya is quite interesting and it deals with a social message. The screenplay should have been good. The dialogues are well penned. The director and his team should have kept enough effort to narrate the second half of Aranya in a more engaging manner. The sound design by Resul Pookutty stands as one of the highlights. The music is good and the background score is the film's major strength. The visuals are fantastic and the makers spent lavishly on the film. Prabhu Solomon fails badly in keeping the second half engaging.
Final Word
Rana Daggubati tops the show in this half-cooked attempt that falls flat. A better second half would have made wonders in the case of Aranya.
Stills from this movie
Videos & Trailers