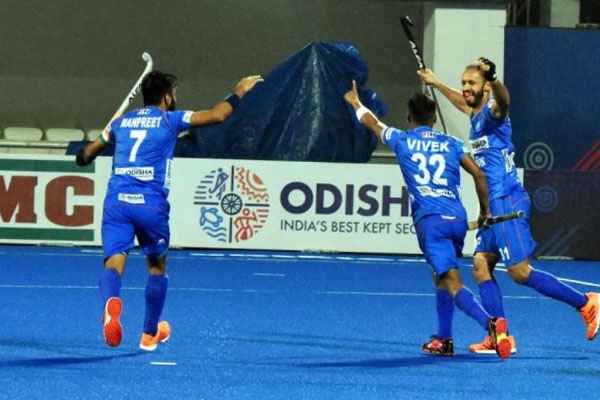 (Image source from: sentinelassam.com)
The men's hockey team of India has climbed to the fourth position which is said to be the highest that has been scored by the Indian men's hockey team since the inception of FIH world ranking which has been done in the year 2003, as mentioned in the chart that has been recently released.

The Indian hockey men's team has jumped from fifth position to the fourth position as it has showed an excellent play in the first three rounds of the second edition of the FIH Hockey Pro League.

The rise of the team India comes at the expense of the Olympic champions Argentina who has dropped to the fifth position.

The world champions Belgium who has defeated Australia in the month of January in Sydney in order to wrestle the top spot from their opponents which is said to remain in pole position, with Kookaburras at the 2nd position and the Netherlands at the 3rd position, being the top three.
India's excellent form in the 2020 FIH Hockey Pro League sees them attain their highest placement since the creation of the FIH World Rankings in 2003. #Rankings #FIHProLeague

— International Hockey Federation (@FIH_Hockey) March 2, 2020

The sixth and the seventh position has been bagged by Germany and England while New Zealand is said to be static at eighth position after earning two wins in their last three matches of the FIH Hockey Pro League and Spain is said to be at the ninth position.

The team India is said to occupy ninth position in the women's list with Netherlands being at the top followed by the teams of Australia, Argentina, Germany and England.

The new model in order to calculate the FIH world rankings has been introduced on the 1st of the month of January in the year 2020 which was said to be moving away from the tournament- based ranking system that has been followed previously. The  new model that is currently used is said to be dynamic and match- based model where the teams that are opposing would be exchanging points and the points that would be exchanged would be done depending on the result of the match,the relative ranking of the teams and the importance of the match.

By Shrithika Kushangi