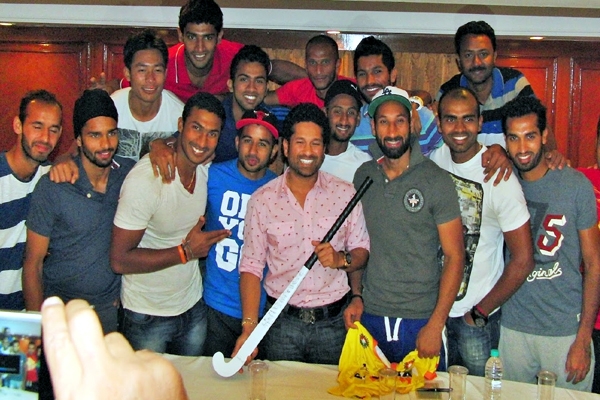 (Image source from: When Sachin Tendulkar surprised Indian hockey players})
Guess who dropped in to surprise the World Cup-bound Indian hockey team on Tuesday? Well, it was none other than cricket legend Sachin Tendulkar who turned up to meet the team and spend some valuable time, motivating and cheering them ahead of the big tournament.
It turned out that Sachin had made the visit on a request from captain Sardar Singh who had invited the "Master Blaster" to come and motivate the team ahead of the World Cup that kick starts at Hague, Netherlands on May 31, 2014. And the Little Master was happy to oblige.
During his two-hour long stay with the team, Sachin Tendulkar inspired the players with his stories and advises, urging them to enjoy the game and give it their best shot.
Tendulkar told the players: "Always remember, no team is stronger than you. Visualize this in your mind and you will realise that your body automatically starts responding positively."
Head coach Terry Walsh felt privileged to meet the cricket legend.  The Australian coach said, "He is a great thinker and the time spent with the boys will have a resounding impact on the minds of the players. He spoke about the importance of positive approach in life and how one can attain success with a powerful mind and a positive approach."
AW: Suchorita Choudhury